'Get Out' Blows Away Expectations with $30.5M Opening Weekend
Jordan Peele's directorial debut is a commercial and critical success.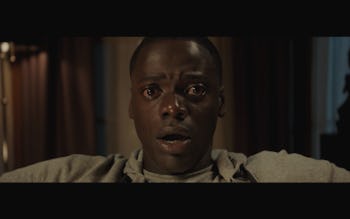 Universal Pictures
This weekend's clear box office winner is the thriller Get Out. In Jordan Peele's directorial debut, Daniel Kaluuya stars as a young black man who accompanies his white girlfriend (played by Girls star Allison Williams) to her family's house for the first time. What starts out as a modern version of Guess Who's Coming to Dinner turns into something far more sinister once the couple arrives at her parents' unsettlingly clean-cut estate. The racially aware horror film has far exceeded expectations in its opening weekend.
With a budget of under $5 million, the film was projected to make up to $20 million this weekend. Smashing those expectations, it has brought in an estimated $30.5 million, according to The Hollywood Reporter.
It's doing just as well with critics, too, earning a rare 100% positive critic score on Rotten Tomatoes.
Part of the film's success could be due to the fact that it's tapping into feelings that are particularly relevant today. In addition to being a horror movie, Get Out confronts race relations in America. Director Jordan Peele, known by many as one-half of the comedy duo Key & Peele, uses the film to contest the notion that we live in a post-racial society, as the film's main character is constantly reminded that race exists. Peele tells Entertainment Tonight that he was worried the film's treatment of racism in America would make it impossible to gain a production company's support.
"[I] literally thought this was an unproduceable movie because people seem to be afraid to take race on."
It turns out he was wrong, to the tune of over $30 million.
The trailer starts out with a moment that Peele tells ET he has personally experienced. Kaluuya's character asks Williams's character whether her parents know he's black. This concern, very real to him, appears lost on her.
Later in the trailer, in an eerily prescient moment when things still seem relatively normal, Kaluuya's character expresses how he, as a black man, can't help but be acutely aware of the difference between himself and his girlfriend's family.
"If there's too many white people, I get nervous," he says.
Little does he know, he should be very, very nervous.