Man Shoots and Kills Himself Outside White House Fence on Saturday Morning
President Trump was in Florida at the time.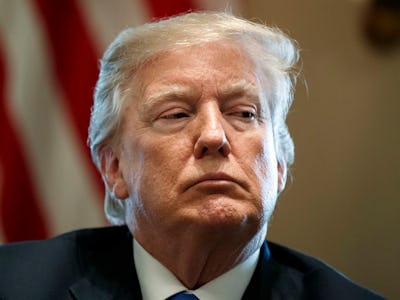 Just before noon on Saturday, a man walked up to the north fence of the White House and shot took his own life. The U.S. Secret Service reports that the man suffered a self-inflicted gunshot wound from a handgun and has been declared dead. President Donald Trump and First Lady Melania Trump were not at the White House on Saturday. They were at their Mar-a-Lago property in Palm Beach, Florida. NPR reports that President Trump has been briefed on the situation. The Secret Service indicates that none of the shots seemed to be aimed at the White House.
The Washington Post reports that witnesses said the man was standing among a crowd of more than 100 people when he fired several shots, at least one of which struck him in the head. Washington, D.C., police report that the man was declared dead at the scene, and that no bystanders were hurt.
The Secret Service reports that the man has been identified, but that his name is being intentionally withheld until they can contact his relatives.
Not long after the incident, The Post reports, Secret Service agents searched a vehicle nearby and removed property:
Early Saturday afternoon, Secret Service agents searched and photographed a maroon Honda sedan on K Street, two blocks north of Lafayette Square. From the trunk, they removed a clear plastic crate, a large blue bag and what appeared to be a cooler, which investigators carefully examined. On the sidewalk were other items apparently taken from the car, including a pair of neon orange running shoes.
This is not the first time that the White House has been the site of disruption or unrest during President Trump's tenure. On February 23, a woman drove a car into a barrier and was detained. In March 2017, a man scaled the fence and almost got to the White House with pepper spray before being intercepted.
Officials have not yet announced the motive behind this latest incident of violence. We will update this story as it develops.