Oscars 2018: How To Stream and Watch the Academy Awards Tonight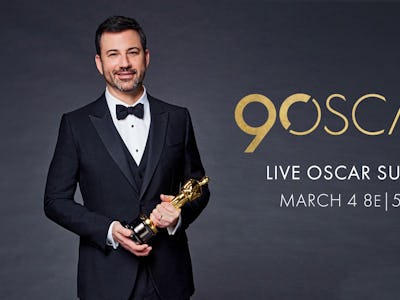 oscars.go.com
The 90th annual Academy Awards show, hosted by Jimmy Kimmel, will air tonight at 8:00 p.m. Eastern. Whether you're rooting for Call Me By Your Name, Get Out, or any of the other deserving nominees, you won't want to miss the chance to witness another spectacular live screw up like the Moonlight debacle of last year.
Here are all the ways you can watch the show:
Watch on TV
If you're old school, you can tune in to ABC with your cable connection or a digital antenna. No username and password required, just turn on the TV and switch to ABC. It's really that easy!
Watch Online via ABC
If you don't have a TV but you do have a cable login, you can live stream the Oscars on ABC.com or the ABC app. This works on your computer, and also on streaming devices like Apple TV, Roku, and Amazon Fire. However, you can only access the live stream if you have account credentials and live in one of the following markets: Chicago, Fresno, Houston, Los Angeles, New York City, Philadelphia, Raleigh-Durham and San Francisco.
If you're a DirecTV subscriber, then you can only access the live stream if you live in Albuquerque, Boston, Ft. Smith/Fayetteville, Jackson (Mississippi), Kansas City, Milwaukee, Monterey-Salinas, Oklahoma City, Omaha, Pittsburgh, Portland-Auburn (Maine), Savannah or West Palm Beach.
To confirm that you have access in your location, click here.
Use a Free Trial
If you don't have a cable login and can't a find a generous friend to share theirs, you can sign up for a live TV subscription service, like YouTube TV, Hulu with Live TV, or Sling. And if you haven't used these services before, you get a free one or two week trial, depending on the platform. Thus you can sign up to watch the Oscars, and then follow it up by watching The Bachelor finale on ABC next Friday night. (Word on the street is that it's going to be the most dramatic finale ever!)
These subscription packages also work on your computer and streaming devices.
Follow the Action on Twitter
If you want to keep apprised of the Awards without actually watching the show, your best bet is to follow the Academy of Motion Arts and Sciences on Twitter. You can also search the hashtag #Oscars2018 to see live reactions from around the Twittersphere.