Ta-Nehisi Coates Hinted He Might Write 'Captain America' Back in 2016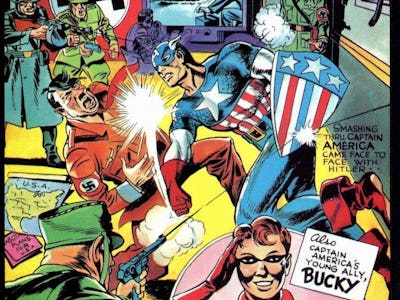 Marvel Entertainment
The incredible news that author Ta-Nehisi Coates will start writing the Captain America comic book series — the first issue's out appropriately on July 4 — might just redeem the comic that's found itself in need of a new voice. Story arcs with Nazi parallels never come at a good time, but this summer was the worst time.
Coates, 42, also writes Black Panther comics and is a lifelong comics geek, a fact apparent in his interviews and essays. In an essay for The Atlantic Wednesday, where he's a national correspondent, he conceded, that given his background and point of view, he might not be the best person to tell the story of the all-American hero, which is what made the opportunity irresistible.
"I'm not convinced I can tell a great Captain America story — which is precisely why I want so bad to try," Coates confides.
Reading his work — notably his 2015 book Between the World and Me — and his essays for The Atlantic, it becomes clear why Coates' perspective on Captain America could result in a story that's just as deep and rewarding as his work with Black Panther. (If you haven't yet, dive into "Fear of a Black President," "The Case for Reparations," and "My President Was Black.")
So, the news was big. But, if you were paying attention, you might not have only guessed it was coming, but heard a hint of it back in 2016. In December of that year, Coates appeared on Longform, an interview-based podcast of which he's a regular guest; each appearance feels like an audio addendum to his latest essays.
About eight minutes into that interview, released 434 days before Coates announced it in The Atlantic, he shares that he was in talks with Marvel about writing Captain America. Interestingly, he touches on how he would would approach the project's larger themes.
Here's the full quote:
"If I were writing — no disrespect to anybody right now because this is very tentative — but if I were writing Captain America right now, I don't know that I would be writing about race. But in some profound way I probably would be writing about race, the actual problems — I still would be confronting those. It's not that literally the skin color is interesting, it's the historical proposition, the experiment; the story is absolutely fascinating. And you can play that out across any degrees of drama. It's been played out with other groups across history, with the details changed here and there."
Timothy Cheng, a communications manager at Marvel, tells Inverse that Coates was in conversation around that time to write for Captain America.
With more than a year to think about how the life of Steve Rogers might play out, we should expect fairly great things from Coates and Captain America this summer.