Dick's Sporting Goods Bans Assault Rifles -- This Time in All Its Stores
They did this previously after Newtown.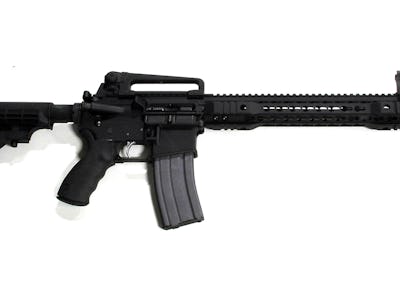 Flickr / simonov
Sports retail chain and gun supplier Dick's Sporting Goods will no longer sell assault rifles, CEO Edward Stack announced on Wednesday. The ban is a response to the Parkland shooting on February 14, where a gunman shot and killed 17 teachers and teachers and students with a legally purchased assault rifle. The alleged shooter, Nikolas Cruz, had previously purchased a firearm from Dick's, although wasn't the semi-automatic rifle he used to attack the high school.
"We were so disturbed and saddened by what happened, we felt we really needed to do something," Stack said in an appearance on Good Morning America Wednesday Wednesday.
That Dick's is taking action is a real testament to the activism of the Parkland survivors, who have been organizing demonstrations and lobbying for stronger gun legislation in the weeks since the shooting.
In a statement released on Dick's website, Stack expounded on the decision. "Following all of the rules and laws, we sold a shotgun to the Parkland shooter in November of 2017," Stack wrote. "It was not the gun, nor type of gun, he used in the shooting. But it could have been."
In the absence of new legislation, Dick's is taking steps to disrupt those incentives. In addition to removing assault rifles and high-capacity magazines from their stores, Dick's also committed to an age restriction on firearm purchases — in the future, only customers over 21 will be allowed to buy a gun at Dick's.
It's probably an unrealistic expectation to think that businesses will enact regulations on their own to solve public policy problems. Following the Sandy Hook massacre in Newtown, Connecticut in 2012, Dick's removed assault rifles from most of their stores, but continued to sell them in their specialty hunting and fishing "Field & Stream" locations. This permanent ban is untested territory.
Despite the new store policy, Stack underscored his commitment to non-violent gun ownership. "We're staunch supporters of the 2nd Amendment, I'm a gun owner myself," Stack said. "We don't want to be a part of this story and we have eliminated these guns permanently."