Elon Musk's SpaceX Satellite Internet Plan Slammed by Experts
Ventures like these have a bleak history.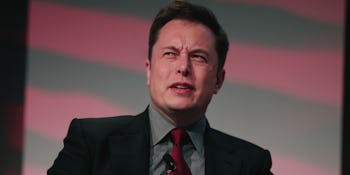 Bang Shift
Elon Musk is no stranger to tackling seemingly impossible missions. But the SpaceX CEO's lofty plan to establish an array of 4,425 internet-providing satellites might be more far-fetched than he's made it seem.
On February 22, SpaceX launched two demo satellites that were meant to test the current potential and feasibility of this orbital internet service provider dubbed Starlink. But based on previous missions that tried to achieve the same thing, Musk's attempt might be implausible.
The major issue here is how much this venture would cost. Musk estimated that it would take $10 billion to $15 billion to pull it off.
Companies like Globalstar and Iridium Communications have tried to set up similar ISP systems only to collapse into bankruptcy.
"Nothing has changed except the level of hysteria and the level of unrealistic expectations," Roger Rusch, president of the TelAstra Inc. consultancy in Palos Verdes, California, told Bloomberg.
The bleak history of projects like these and harsh words by analysts don't seem to dissaude Musk or Greg Wyler, founder of another proposed satellite constellation, OneWeb.
Both of these tech entrepreneurs want to use their satellites to beam internet connectivity to underserved parts of the globe. This might be a noble cause on paper, but Massachusetts Institute of Technology professor Vincent Chan said that people in those parts of the world might not be able to afford this type of sophisticated broadband.
"The trouble is, because it is technologically feasible doesn't mean it's economically viable," Chan told Bloomberg. "Who in Africa can afford to pay $100 for service for a month? Maybe $10, they can afford. One dollar, they can do."
Another major issue standing in the way of these types of ventures is managing the sheer number of satellites they would require. There are currently 1,738 satellites orbiting Earth in total, according to the Union of Concerned Scientists. Musk's plan alone requires nearly triple that amount to be sent into low-Earth orbit.
While SpaceX has proven doubters wrong in the past, this undertaking might be Musk's most daring to date.