SpaceX Just Filed an FCC Request to Launch 4,425 Internet Satellites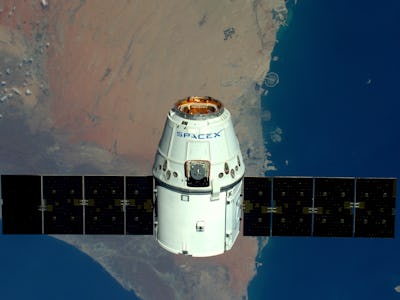 Getty Images / ESA
On Tuesday, SpaceX filed a request with the Federal Communications Commission (FCC) for approval to launch 4,425 satellites to provide global broadband and communications services.
According to the request, the "constellation" of satellites will give the company "full and continuous global coverage." It will work on the "Ku" and "Ka" bands, which operate on the 12-18 GHz and 26.5-40 GHz ranges of the electromagnetic spectrum respectively. NASA's Tracking Data Relay Satellite used for both space shuttle and International Space Station (ISS) communications operates on the "K band," which means that SpaceX is calling dibs on some airwaves in the bands right above (Ka) and under (Ku) the space agency's wheelhouse.
Using "advanced phased array beam-forming and digital processing technologies" the satellite payload will be able to use the Ku- and Ka- band spectrum while also sharing with "other licensed users," the company states in the application." The low-Earth orbit satellites will be steered back to the ground using antenna beams and operated using ground control facilities and user stations on Earth. The satellites are designed to last five years, after which they will de-orbit, the company says.
SpaceX first opened a satellite development facility in Redmond, Washington in January 2015, stating at the time that it planned on having the "satellite constellation" in orbit by 2020. At the time, the plans seemed like a potential threat to internet providers like Comcast and Verizon.
But by October of 2015, the company seemed to be less optimistic about the future of the project, downplaying its importance.
"I would say that this is actually very speculative at this point," SpaceX President Gwynne Shotwell said at the Cable & Satellite Broadcasting Association of Asia convention. "We don't have a lot of effort going into that right now."
Now the plan seems back in action. But the question is, why now?
Given SpaceX already has its hands full with building a colony on Mars, jumping into the internet game seems like an unexpected move. But while a SpaceX and Tesla merger is unlikely, wireless internet could be a major boon to Tesla's driverless cars. It could be that the satellites will fill the role of the much-needed communications infrastructure required for the Mars colony to be a success. It really could just be a move to take over the much-monopolized internet industry in the U.S. Regardless of deeper motives, this new application certainly shows that the $15 billion plan has moved far past "speculation."