What Levi Sanders' Run for Congress Could Mean for Politics
Bernie's son wants to take on the system.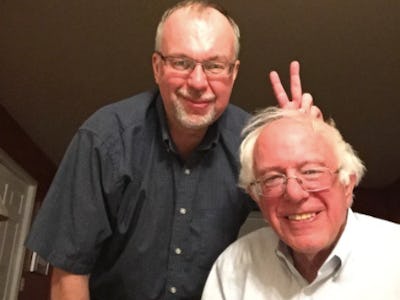 https://twitter.com/Celentra/media
Move over Bernie Bros — the time of Bernie Sons is upon us. Levi Sanders, child of Vermont Senator Bernie Sanders, is running for Congress in New Hampshire.
The heir apparent to the Bernie Sanders Dank Meme Stash announced his candidacy for the House of Representatives on Monday, publishing a statement to his so-poorly-designed-it's-endearing campaign website. Sanders is running in New Hampshire's 1st District in the upcoming midterm election on November 8, 2018. This will be his first time running for public office.
Like his father, the younger Sanders, 48, is positioning himself as an advocate for the people. "For over 17 years, I have represented the working class who have been beaten up by the system. It is time to demand that we have a system which represents the 99 percent and not the one percent who have never had it so good," the statement said.
Here's what you should know about Levi Sanders:
What Is Sanders Background?
Sanders graduated from the University of Oregon in 1992 with a degree in history. He served as a Senior Policy Analyst on his father's 2016 presidential campaign. Sanders has lived in New Hampshire for the past 15 years, and he's worked as a legal analyst focused on Social Security claims for 18 years.
What Are His Politics?
Like his father, Levi Sanders skews towards supporting democratic socialist programs aimed at working class Americans. Unlike this father, Levi Sanders is a registered Democrat; Senator Bernie Sanders is technically an Independent, although he ran as a Democrat during the 2016 presidential election.
What Are His Policy Suggestions?
Sanders wants to install a Medicare For All system that guarantees healthcare to all people without out of pocket costs. He is campaigning for free public college and an increased minimum wage so nobody working a full-time job is below the poverty line. Sanders also said that he will address what he calls the "crisis level" opioid epidemic in New Hampshire.
Can Sanders Win?
Sanders is joining a crowded electoral field that includes seven other Democrats and three Republicans — a pretty tough race for a political neophyte. But if Sanders channels his father's popularity, he may be successful; Bernie Sanders won the New Hampshire presidential primary in 2016, trouncing Senator Hillary Clinton by a margin larger than 22 percent of the popular vote.
What Would a New Sanders Win Mean for the Progressive Movement?
A Sanders win wouldn't have a huge effect on national politics. Because the seat was previously held by Democrat Carol Shea-Porter, who is retiring this year, it wouldn't change the partisan composition of the House of Representatives. Still it would be a big win for the progressive wing of the Democratic Party. Having another Sanders in Congress will help them shift policy debates to focus more on social programs favored by progressives.