One of the Best Comics Writers May Finally Get a Silver Surfer Movie Right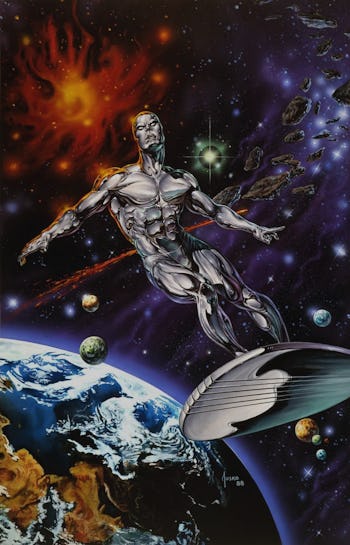 Marvel
It's been more than ten years since the Silver Surfer appeared onscreen in the forgotten Fantastic Four sequel, Rise of the Silver Surfer. Now, in the face of Disney's looming $60 billion acquisition of Twentieth Century Fox, Brian K. Vaughn, one of the best comic book writers of the modern era may be tackling one of Marvel's most alien superheroes.
On Tuesday, The Hollywood Reporter wrote about the numerous Marvel movies currently in development at Fox. In addition to films we already know about, like Channing Tatum's Gambit and the Deadpool spin-off X-Force, one of the most exciting projects is a stand-alone Silver Surfer movie from writer Brian K. Vaughan. Yes, THAT Brian K. Vaughan, the guy who introduced Marvel's Runaways and penned creator-owned hits like Y: The Last Man, Ex Machina, Saga, and Paper Girls.
"We are going 100 miles per hour," one Fox executive was quoted.
When it comes to material/creator combinations, Vaughn and Jack Kirby's Silver Surfer is a match so perfect it's almost criminal it hasn't happened in comics. With a distinct voice who can make alien worlds human (Saga) or human worlds alien (Y: The Last Man), Vaughan could make the alien Norrin Radd, who used to traverse galaxies seeking planets for his boss Galactcus to consume before he met the Fantastic Four, a tragically human figure.
For a select audience raised throughout the '90s, they may best remember the Silver Surfer for his amazing but short-lived animated series, Silver Surfer, which aired on Fox Kids alongside X-Men and Spider-Man.
But will fans actually get to see Brian K. Vaughan's take on the Silver Surfer? Working against the project is the potential disruption of Disney, which recently purchased Fox's film and TV assets for a whopping $52.4 billion in December. The buyout may interfere with all the Marvel projects in the works at Fox, with one Fox source saying there are more in-development Marvel IP "than at any point in the history of the studio."
For now, though, things seem relatively normal. "There's been zero slowdown on that front given Disney," another source told The Hollywood Reporter.
While a Silver Surfer movie is exciting, there's no shortage of X-Men-related movies coming in the next year. This May, Deadpool 2 hits theaters, while X-Men: Dark Phoenix will arrive in November. The New Mutants was slated to premiere this summer, but has since been pushed to February 22, 2019.