Here's How Marvel's 'Runaways' TV Show Connects to the MCU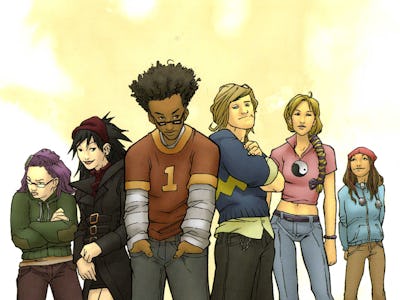 Marvel Entertainment
This November, the Marvel Cinematic Universe will expand even more with Hulu's live-action adaptation of Brian K. Vaughn's YA comic series, Runaways about a group of teenagers who discover their parents are supervillains. At the Television Critics Association summer press tour, Marvel's head of television Jeph Loeb made it clear that Runaways is in the MCU, even if Captain America or Luke Cage may never make an appearance.
"It all lives in the same world," Loeb said at a panel at the TCA on Thursday afternoon. "How and where it's connected and what it's going to be connected to remains to be seen."
He then added: "You'll see things that comment on each other. We try to touch base wherever we can." Loeb said that there will be Easter eggs to the wider MCU, but the goal of the show is to have people invested in this ensemble crew, not if Doctor Strange will show up. "It's very much like real life. Things that are happening in L.A. are not exactly going to be affecting what's happening in New Orleans, or what's happening in New York isn't on the minds of everyone living in Chicago. It's being aware of it and trying to find a way for it to be able to discuss in a way that makes sense."
What's a little odd is that Decider, via Twitter, quoted Loeb specifically naming the Marvel/Netflix universe, which is still connected to the whole MCU (just not as overtly). In the tweet, Decider quoted Loeb who said Runaways "lives in the same world" as the world of The Defenders. The specifics "remain to be seen."
Runaways will be overseen by showrunners Josh Schwartz and Stephanie Savage, creators of The O.C., which helps Loeb's point that Runaways is a teen-centric drama. "It lives in a world of if you're a teenager, since it's all connected through social media and its own way, would you be following Iron Man or somebody that was more your age? The fact that they've found each other and are going through this mystery together is what they're concerned about, not what Captain America is doing on a Friday night."
Runaways isn't the only new show Marvel has in the works, let alone a teen drama. On Freeform, they've got Cloak & Dagger and New Warriors, which recently cast Milana Vayntrub as the fan-favorite superhero Squirrel Girl. On Netflix, The Defenders will premiere on August 18, while the spin-off series The Punisher is expected to begin streaming in November. Meanwhile, on Fox, there's The Gifted, which is set in the separate X-Men universe and will premiere this fall.
At the panel, Loeb joked: "I don't think the Punisher is going to show up on Freeform."