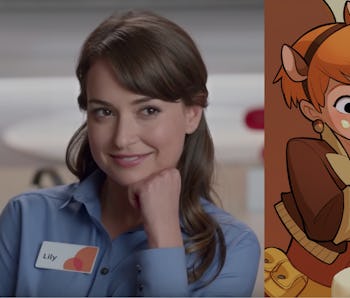 Entertainment
Marvel Casts Milana Vayntrub as Squirrel Girl for 'New Warriors'
AT&T, Marvel Entertainment
At long last, the Unbeatable Squirrel Girl is coming to the Marvel Cinematic Universe. Actress Milana Vayntrub, who recently appeared in the NBC drama This Is Us but is probably best known as "Lily" in the AT&T commercials, will play Doreen Green, aka Squirrel Girl, in the new Marvel TV series New Warriors, which will air on Freeform in 2018.
Among all the characters who will be introduced in New Warriors, Marvel's first TV comedy about a group of young people who struggle to control their powers, Squirrel Girl is arguably the most popular. An authentic spoof on superheroes, Squirrel Girl is one of the strongest heroes in the Marvel Universe, who has defeated Doctor Doom and Galactus. Before Vayntrub, a number of actresses expressed interest in the role, such as Shannon Purser ("Barb" in Stranger Things) and Mae Whitman (Parenthood). Movie star Anna Kendrick (Pitch Perfect) also admitted to wanting to play Squirrel Girl, although she admitted in an interview that she doesn't know what Squirrel Girl can do.
Vayntrub isn't the only cast member joining the new Marvel spin-off series. Along for the ride are the rest of the New Warriors: Jeremy Tardy (Dear White People) will play Night Thrasher; Derek Theler (Baby Daddy) will be Mister Immortal; Calum Worthy (Disney's Austin & Ally) will portray Speedball; actress Kate Comer (The Comeback) will be Debrii; and Matthew Moy (2 Broke Girls) has been cast as Microbe.
New Warriors will act as a lighthearted compliment to the more serious Marvel YA action-drama Cloak and Dagger, also slated to premiere on Freeform. The series will be semi-connected to the Marvel Cinematic Universe, said Karey Burke, exec vp programming and development at Freeform, in an interview with The Hollywood Reporter.
There is currently no premiere date set for Marvel's New Warriors.