Vodaphone Will Use Mobile Data to Track and Control Epidemics
"This has the potential to save thousands of lives."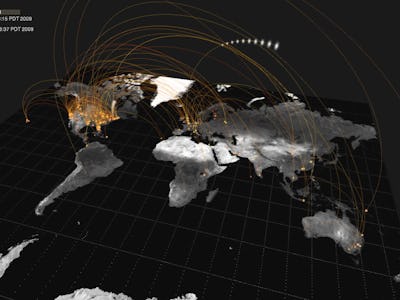 Flickr / blprnt_van
Mobile service provider Vodafone announced a new program aimed at curtailing epidemics in Ghana at the Mobile World Congress on Monday. By gleaning insights from mobile data, Vodafone will help Ghana's government respond more effectively to future infectious disease outbreaks.
The project, which will be carried out later this year by the company's charitable wing, the Vodafone Foundation, focuses on analyzing customers' mobile data to create heat maps. These maps will show how the population moves around the country during an epidemic. Vodafone says the project won't breach privacy rules because the data will be anonymized and aggregated, so individual customer movement won't be discernible.
Ideally, this information will help the government make better decisions to improve public health, transportation systems, and agricultural production during a crisis. For example, if Vodafone's data shows that a large group of people are all moving in the same direction to avoid an epidemic, the government can allocate more resources to the area where people are going. This kind of knowledge will be invaluable during crises, when there is generally an information vacuum and misinformation spreads across the internet.
If all goes according to plan, the new project will help protect against the devastating impact of infectious diseases. In 2014, Liberia, Guinea, and Sierra Leone were hit by an Ebola outbreak that left more than 11,000 dead. Vodafone contends that using big data will allow governments to better coordinate their responses to future outbreaks, ensuring that fewer people get infected during an epidemic.
It's a lofty goal, but the telecommunications giant seems optimistic about its chances for success. According to The Guardian, Vodafone external affairs director Joakim Reiter sees the project as fulfilling a pressing need. "This has the potential to save thousands of lives," Reiter said.