Sony Xperia XZ2 Bundles a Key PS4 Feature for Immersive Video
It comes as the PS4 enjoys a warm reception.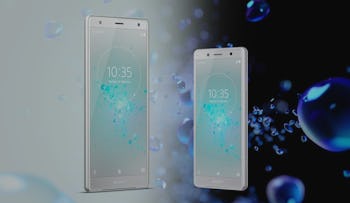 Sony
Sony is learning some of the best lessons from the PlayStation 4 and applying them to smartphones. The Xperia XZ2, unveiled Monday at the annual Mobile World Congress in Barcelona, features a vibration system taken from its video game console to improve immersion in audio and video.
The Dynamic Vibration System, which uses the same technology as the DualShock 4 controllers bundled with every PS4, analyzes the playing audio and triggers the vibrations in time to make the sound feel more alive. This is paired with a 5.7-inch display with 2,160 by 1,440 resolution, capable of showing colors in vibrant High Dynamic Range.
Sony is touting the feature as one of its key selling points for the XZ2, and it's easy to see why. With PSVR attracting new audiences, and Shadow of the Colossus drawing attention on the 4K-capable PS4 Pro, Sony's console is having a moment in the sun. Tying its new phone to its successful console could draw in fans.
Watch the XZ2 in action here:
However, initial tests suggests the feature could use some tweaking. Dynamic Vibration is off by default, with a slider included to set the intensity and a settings screen to choose which apps employ the feature. Whether the feature adds something new may depend entirely on user preference.
"I can see a use for gaming, but it felt super-odd with video and music," Max Parker wrote in his hands-on for Trusted Reviews. "Do I want my phone to vibrate in all manner of ways when I'm watching the trailer for Jumanji? After trying it out briefly, I'd say no."
Alongside Dynamic Vibration is a Qualcomm Snapdragon 845 processor, 4GB of memory, 64GB of storage expandable via a microSD slot, and a 19-megapixel rear camera capable of capturing 4K footage with High Dynamic Range. Sony is also introducing a smaller 5-inch XZ2 Compact that lacks the Dynamic Vibration and other features like wireless charging. On, and following in the footsteps of the iPhone, neither of them include a 3.5mm headphone jack. Pricing and release information for both phones is set to arrive later.