Canadian University Offers World's First Indigenous Law Degree
Students will learn the legal system created by First Nations.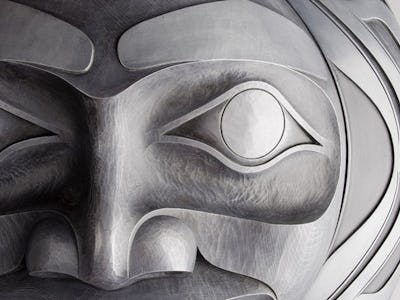 Ben Davidson/David Koppe
The University of Victoria announced the creation of the world's first Indigenous law degree program in a press release on Thursday. The program, which will inaugurate its first class in September 2018, will confer two separate degrees upon graduates: one in Canadian common law, and one in Indigenous law.
Indigenous law refers to the legal frameworks established by First Nations. Essentially, Indigenous law is a legal system that exists in parallel with Canadian common law. In a primer on the field, Law Foundation Chair in Aboriginal Justice and Governance Val Napoleon pointed out that the main goals of Indigenous law are closely aligned with Canadian law. "Indigenous law is concerned with the same human concerns as Canadian law including community safety, fairness, and accountability," Napoleon wrote.
In a statement from the University of Victoria, John Borrows, Canada Research Chair in Indigenous Law, described the difference between Indigenous law and common law as this:
Indigenous law looks to nature and to the land to provide principles of law and order and ways of creating peace between peoples; whereas the common law looks to old cases in libraries to decide how to act in the future.
The push to recognize Indigenous law as a legitimate legal framework comes from Canada's Truth and Reconciliation Commission. The Commission's mandate is to rebuild the relationship between Canada and First Nations by giving redress for the cultural erasure promoted by Canada's residential schools program and centuries of policy. The residential schools were part of Canada's "aggressive assimilation" campaign during the 19th and 20th centuries, which removed indigenous children from their families and traditional communities and sent them to boarding schools where many suffered emotional, physical and even sexual abuse. The last residential school closed in 1996.
Part of the reparations for the residential schools program include recognizing Indigenous law as a legitimate legal system that should operate in concert with Canadian common law. The new degree program will create a new class of lawyers who are especially well-equipped to adjudicate the challenges created by operating two concurrent legal systems.
In particular, the dual degree holders will study laws codifying environmental protection, governance, and economic development in Indigenous communities. All of these fields suffer from a dearth of legal expertise, so new Indigenous law experts will be tasked with forming partnerships between First Nations and the Canadian government to tackle these issues.
If Canada is serious about achieving reconciliation with First Nations, the University of Victoria believes it's vital to train more people in Indigenous law. With this new program in place, people who may have opted to study Canadian law will have the option to also study Indigenous law without sacrificing the flexibility conferred by a standard law degree.
With the inception of the world's first Indigenous law program, Canada is setting a clear example for nations seeking to incorporate the experiences and rights of first nations communities. Hopefully other countries will follow suit.