6 Unlikely and Quirky Horror Movies on Netflix in March 2018
It's never too early to get spooky.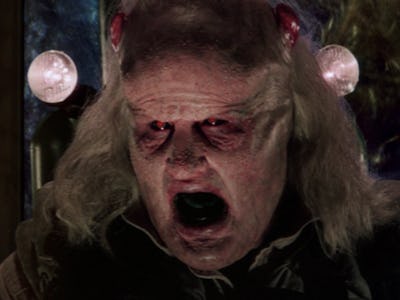 Sony
March isn't a traditionally a great time of year to get spooked. Halloween is months away, and it's too chilly for machete-wielding slashers to hit up camp for fresh meat. Still, Netflix is determined to deliver some scares the same month folks toast to St. Patrick.
On Thursday, Netflix released a list of films, TV shows, and original programs that will debut on the service on March 1, 2018. While there is a diversity of genres, including comedy, action, and romance, there's a compelling list of horror that are worth giving attention. If you're done laughing at Beerfest or bingeing the entire Cruel Intentions trilogy, also set to arrive on Netflix March 1, check out these horror fares to celebrate Hallow's Eve eight months early.
1. The Descent (2005)
Before the Hellboy reboot hits with David Harbour (Stranger Things) replacing Ron Pearlman, it's worth checking out director Neil Marshall's British horror movie The Descent. Set in an underground cave, six women must survive when they discover the cage is populated by flesh-eating mole people.
The Descent was a big hit when it came out in 2005, earning a solid 85% rating on Rotten Tomatoes.
2. The Descent Part 2 (2009)
Director Jon Harris was the editor of the first Descent, which made him a sensible hand to take over the sequel. Sadly, the film doesn't quite reach the heights left by the original, but Part 2 is worth checking out if the first outing left you wanting more.
3. Ghostbusters (1984)
Yeah, it's not a "disturbing" horror movie, but put Ghostbusters on for the little ones and you'll see them get scared as much as they laugh their heads off. Ivan Reitman knows how to navigate comedy with real scares in ways no one has pulled off since. Not even Reitman could in Ghostbusters II.
4. Ghostbusters II (1989)
Admit it, you were also terrified of the haunted bathtub.
5. The Brothers Grimm (2005)
Before Lena Headey ruled Game of Thrones, before Heath Ledger electrified The Dark Knight, and after Matt Damon was — well, in Dogma, the three co-starred in The Brothers Grimm, a fantastical look at the German scholars and storytellers who published many oral fairy tales into print. In this film, directed by auteur Terry Gilliam (Brazil, Fear & Loathing in Last Vegas), Damon and Ledger portray the Grimms as cool conmen who pose as exorcists forced to deal with a real supernatural force.
Fun fact: Japanese author Kazue Kato credits The Brothers Grimm as the inspiration for her manga series Blue Exorcist, which has been adapted into an anime as well as a live-action film in 2012. "[T]hat basic good-versus-evil premise was very interesting to me. The movie itself was a bit cynical overall," she told Anime News Network in 2016.
6. Trump: An American Dream (2018)
More like an American nightmare: This UK-produced documentary, which premieres March 30 on Netflix, promises an "epic exploration of Donald Trump's extraordinary life." Now that's scary!