The First Look at the New 'Hellboy' Is Intense as, Uh, Hell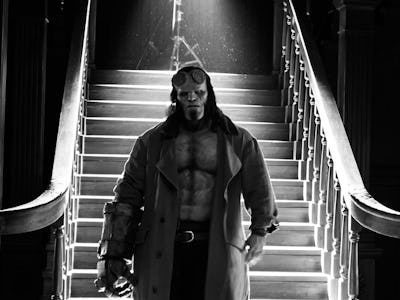 Twitter.com/DavidKHarbour
That Hellboy movie reboot just became even more of a real thing, now that we know how David Harbour will look as the demonic secret agent. And buddy, Hellboy has never looked so good.
On Wednesday afternoon, two new images of David Harbour (Stranger Things) as Hellboy surfaced on Twitter after Harbour and Hellboy creator Mike Mignola shared them. Harbour had some fun with the image reveal, writing: "Please allow to introduce myself, I'm a man of wealth and taste," a nod to the Rolling Stones song "Sympathy for the Devil." Meanwhile, Mignola was far more straightforward: "Holy crap… first look #hellboy."
While Ron Perlman's portrayal of the Dark Horse comics character is a fan favorite, Harbour's version looks a lot more savage and nasty — and to be perfectly honest, a lot better. While Perlman's boyish Hellboy made him look endearing while he watched football and ate Baby Ruths, Harbour's Hellboy looks like he'll rip out your spine while blasting Judas Priest.
The new movie, apparently still titled Hellboy and not Hellboy: Rise of the Blood Queen as it was previously reported, will reboot the franchise after Guillermo del Toro wasn't able to get traction on a third film to close out his cult classic trilogy. Neil Marshall, the new director, has said he's "taking off the gloves" and is leaning towards a vicious R-rating.
See the two images below. First, Mignola's tweet:
And now, David Harbour's:
There is still no release date yet for Hellboy.