Sunday Lectures: Experimental Foods, Math, and the 'Stans
Get smart without getting out of bed.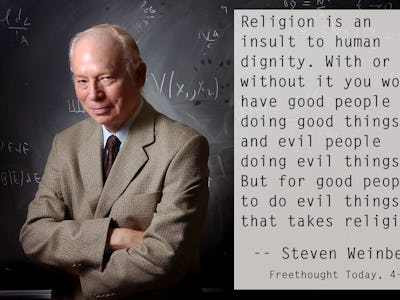 Sunday Lectures is a weekly roundup of the Internet's most interesting educational videos. Get smarter without getting out of bed.
To Explain The World: A Conversation with Steven Weinberg
This brilliant conversation between Nobel Prize-winning physicist and author Steven Weinberg and renowned journalist John Hockenberry explores the emergence of science as we know it — the history of humans trying to understand how to understand.
How Not To Be Wrong: The Power of Mathematical Thinking
Mathematician and author Jordan Ellenberg gives a very energetic talk for the UK's Royal Institution on the many ways math is embedded in the fabric of our everyday lives.
Climate Change: What a Committed Green Government Could Actually Do
In this video from the Bristol Festival of Ideas earlier this year, British writer George Monbiot presents a fiery discussion of David Cameron's failure to "green" his government and explores what a truly green government would look like.
Roots and Routes: "Stan By Your Land"
Ever wonder why so many countries end in "stan"? Here's a very thorough, very quick video on the rich history of this common suffix.
Chef José Andres at Google
James Beard Award-winning chef, Iron Chef, and food advocate José Andres nerds out about food, his organization ThinkFoodGroup, and his passion for cooking with Chris Ying, editor of food magazine Lucky Peach.