Will Coinbase Add Litecoin Cash? How to Get the Surging New Cryptocurrency
The "forked" cryptocurrency is surging.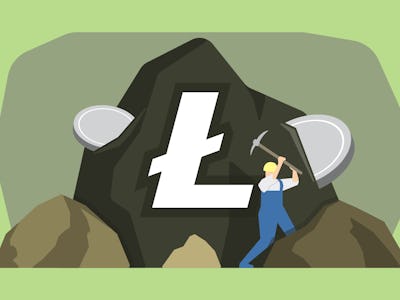 Descryptive / Flickr 
Despite plenty of doubt and skepticism, Litecoin Cash, or LCC, continues to soar two days after the cryptocurrency's "hard fork" away from Litecoin, or LTC. Initially starting at $1.44 per token, LCC has surged to $9.18 at 1 p.m. Eastern time on Tuesday, according to the CoinCodex tracker.
The new token has been dismissed as a scam by experts and even the creator of the original Litecoin, Charlie Lee. However, its surging value has led many crypto-enthusiasts to ask when it will come to one of the world's leading cryptocurrency exchanges, Coinbase.
The answer is: probably not anytime soon. But the Litecoin Cash FAQ section explains how people can get their hands on the new token if their exchange isn't including it.
You might also like: "Litecoin Cash Is Surging, but It May Not Last Long"
For now, the only exchanges adding LCC will be YoBit, Mercatox, Trade Satoshi, MeanXTrade, and CryptoBridge, according to Litecoin Cash's website.
In the past 24 hours, more than $18 million worth of LCC has been traded on YoBit, according to CoinCodex. All that activity was sure to interest some potential investors, many of whom use the industry-leading Coinbase.
Alas, Coinbase users will have to jump through a few hoops if they want to swap their LTC for LCC.
In order to do this, you'll need the private key of your Litecoin holdings, which Coinbase does not provide. In order to gain access to a private key, you'll need to transfer the LTC you have in Coinbase to a desktop wallet, like Litecoin Core or Jaxx.
From here your cryptocurrency funds are no longer hosted on an exchange; they're in your possession. Now you'll have to make a Litecoin Cash wallet from the new token's site or transfer them to one of the exchanges accepting LCC.
Before you do anything with your private key, make sure to move your holdings to a new address and then use the key of the old address to claim your LCC. Revealing a private key holding live funds can result in a total loss of your tokens if it were to fall into the wrong hands.
Keep in mind, the cryptocurrency market is no stranger to fluctuating prices and scams, so trade safely and smartly.
If you liked this article, check out this video about Litecoin's creator, a meme-loving Internet Dad.