Litecoin Cash Price: Why Cryptocurrency Is Soaring in Value
Experts have dismissed the project as a scam.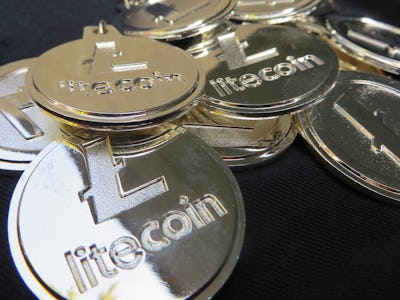 Flickr / btckeychain
Litecoin Cash got off to a strong start on Monday, as the dust settled from the cryptocurrency's "fork" away from its Litecoin origins. The new project has attracted a high degree of skepticism, most notably from the creator of the original Litecoin, but that didn't seem to stop the new release from enjoying a strong morning in the cryptocurrency marketplace.
Initially starting at $1.44 per token on the CoinCodex tracker, Litecoin Cash surged to $4.27 at midnight Eastern time on Monday. At around the same time, the original Litecoin sat at $218.43. Owners of Litecoin prior to the fork would receive 10 Litecoin Cash tokens for every original token, meaning many prior holders received a welcome boost due to the fork.
Over the 24-hour period, Litecoin Cash volume on the YoBit exchange exceeded $2.8 million, a staggering amount that ranks higher than the total 24-hour volume on 27 of the top 100 largest cryptocurrencies on CoinMarketCap. It seems the initial launch hype has attracted a high degree of attention on exchanges.
Litecoin Cash makes a few changes from the original project, the most notable being a switch from the Scrypt algorithm for mining to SHA-256, meaning older hardware is once again relevant for mining purposes. The cryptocurrency split at block 1371111, meaning it went live on Sunday at around 4 p.m. Eastern time.
However, Litecoin creator Charlie Lee has dismissed the project as a "scam," with its name suggesting a close relationship between the two projects.
"Litecoin Cash doesn't bring anything to the table," Trevor Gerszt, CEO of crypto investment service CoinIRA, told Inverse last week. "It touts that it has more coins and faster transaction times, but Litecoin already has more coins than Bitcoin, and Bitcoin Cash was developed to solve the problem of slow transaction times, so those concerns have already been addressed."
Whether Litecoin Cash can sustain its initial momentum remains to be seen.
If you liked this article, check out this video about Litecoin's creator, a meme-loving Internet Dad.