What Happens to DACA Now? Does the March 5 Deadline Mean Anything?
The Supreme Court might step in.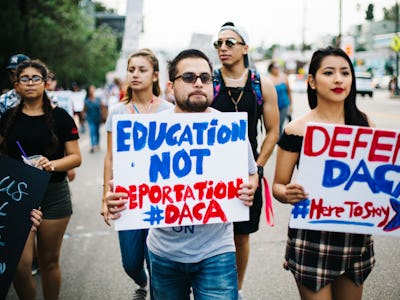 Flickr / mollyktadams
Last September, President Donald Trump set a March 5 expiration date for the Deferred Action for Childhood Arrivals program, better known as DACA. The program, which allows young, unauthorized immigrants to apply for immunity from deportation and the legal right to work in the U.S., was slated to wind down by this spring, with Congress on the hook to deal with the fate of the 700,000 immigrants currently protected by the program. But after several days of ineffective debate in Congress this week, the issue of DACA's longevity has now moved to the Supreme Court.
What Happened?
This week, Congress was supposed to enact a bi-partisan, legislative solution to protect current DACA recipients — but they didn't. Despite a promise from Trump to legislators in January that he would sign any bill that could be agreed upon by Congress, this week the White House threatened to veto any legislation that didn't include stringent new restrictions on legal immigration — something Democrats are vehemently opposed to. While two bills that would protect DACA recipients did manage to gain enough votes to pass in Congress with Trump's approval, the President's veto threat squashed their possibility.
Thus by Friday, there remained a standstill on the fate of DACA. So what does this all mean for the supposed March 5 deadline?
Legal Challenges Have Saved DACA, for Now
As of Tuesday, two federal courts had blocked President Trump from completely terminating DACA, deeming the administration's decision to do so "arbitrary and capricious." That means that DACA recipients whose status may have expired after Trump's September announcement can again apply to renew their statuses, which last for two years at a time.
"Until further notice, the DACA policy will be operated on the terms in place before it was rescinded on September 5, 2017," a spokesman for the United States Citizenship and Immigration Services has told NPR.
New applications for DACA, however, will not be considered. This means that finding a legislative solution to DACA — and generally for undocumented, immigrants brought to the U.S. as children — is still imperative.
So What's Next?
On Friday, the Supreme Court was meeting behind closed doors to discuss the Trump administration's appeal of the lower courts' decisions to block the removal of DACA. It could make a decision on Friday, or on Tuesday, following the President's Day holiday. If the Supreme Court accepts the appeal, a ruling wouldn't likely occur until June. If they refuse the appeal, the courts' ruling would stand while Congress continues its as of yet unsuccessful attempts to lock down new DACA legislation.