Next Generation of Police Cars Could Be the Tesla Model X
What the future of policing might look like.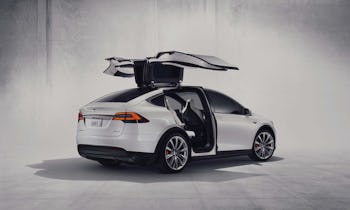 aolcdn.com
If you're ever gunning it down an Ontario highway in the not-so-distant future, you might just get pulled over by a Tesla Model X.
At the Canadian International Autoshow on Thursday, Sergeant Kerry Schmidt of the Ontario Provincial Police revealed on a live-stream what the electric SUV would look like if it were a police cruiser.
Schmidt unveiled a black-and-white Model X P90D that was fully decked out in OPP badges, flashing police lights, and sirens. While this vehicle was met with a wave of positive remarks online, Schmidt emphasized that it was only here to demonstrate "the future of policing," and won't actually be put to use right away.
"It is not going to see frontline patrol vehicle service," explained Schmidt. "Right now this vehicle has not been tested at the proving grounds for a police-rated pursuit vehicle."
While this might only be a demo police cruiser, Schmidt mentioned he was interested in beginning a dialogue with Tesla about approving these vehicles for official use. So a police fleet of Model Xs might be cruising down the streets of Ontario sooner than you think.
This isn't the first time law-enforcement agencies have retrofitted Teslas to look like cop cars. In 2016 the Los Angeles Police Department tricked out their own Model S P85D and said they were testing the sedan as a high-pursuit police cruiser.
Replacing police cars that use fossil fuels with Tesla's electric vehicles would not only cut carbon emissions, but it would be a big step in ushering in a era where clean-powered vehicles are commonplace.
So be extra careful about speeding if you're in Ontario in the next few years — you might just have a caravan of Teslas trailing you in no time.