Elon Musk Shares Incredible Video of Tesla Model X Pulling a Truck in Snow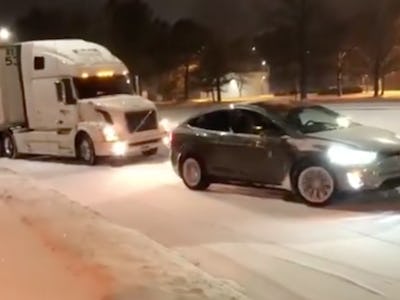 Kyle Connor/Facebook
The Tesla Model X is a serious performer. On Friday, CEO Elon Musk shared a video on his Twitter page of the company's all-electric sports utility vehicle pulling a semi truck in the snow. Yep, that's right.
The video, shared by Musk via Electrek, showed a truck stuck in Raleigh, North Carolina, on Wednesday, where blistering cold lows of 10 degrees Fahrenheit brought as much as six inches of snow. Model X owner Ben Spreen, filmed by his friend Kyle Connor, pulled the truck up to the top of the incline.
It's an impressive feat, and one that goes to show the incredible power of Tesla's engineering. Considering a typical Class 8 tractor-trailer combination weighs around 35,000 pounds, and the Model X tow package is only rated for pulling up to 5,000 pounds of weight, it's amazing the vehicle got anywhere near actually pulling the vehicle up the hill.
Watch the video below.
Musk appears to be a big fan of these feats. In November, he shared a video of a Model X beating an Alfa Romeo 4C Spider in a drag race while towing another 4C Spider on the back. The same video also showed the Model X in special "Ludicrous Mode" beating the 2017 Bentley Bentayga in a quarter-mile race. Although the Bentayga was the fastest sports utility vehicle in the world at the time of filming, with a top speed of 187 mph.
Tesla is looking to bring this technology over to the trucking industry itself. The Tesla Semi, unveiled in November 2017 at the Tesla Design Studio in Hawthorne, California, is set to bring up to 500 miles of all-electric range to the delivery world when it hits the road in 2019. Priced at $150,000 for the entry-level model, the truck will accelerate to 60 miles per hour in a staggering 20 seconds when pulling the maximum 80,000 pounds legal weight.
In the future, videos like these may instead feature a Tesla Semi pulling a diesel truck — or three — out of the snow.