Why 'Black Panther' Made $5.2 Million at the International Box Office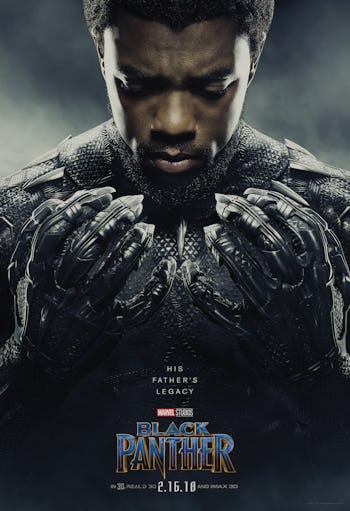 Marvel Entertainment
The King of Wakanda is dominating the global box office. On Tuesday, Marvel's Black Panther premiered in theaters in the U.K., Taiwan, South Korea, and Hong Kong, opening at number one in every market. In the United States, the film will be released later this week on February 16.
The numbers for Black Panther's international performance, totaling an impressive $5.2 million, started coming in Wednesday via Deadline. One source told the site that the new Marvel film will "overcome the concerns people are having about it in the emerging markets and open bigger than anticipated internationally."
Historically, studios balk at films starring mostly black actors on the basis they don't perform well for a mass audience. But the high performance of recent films, such as Girls Trip and Get Out, have proved otherwise. Coupled with the very familiar Marvel brand, as well as Chadwick Boseman who first played the role in 2016's Captain America: Civil War, Black Panther is poised to be a mega-hit. Pre-sales on Fandango have surpassed records for every superhero movie ever, including Batman v Superman: Dawn of Justice, from rival DC/Warner Bros.
Beyond the box office, the critical reception is also an impressive feat. Black Panther debuted to a solid 100% rating on Rotten Tomatoes, with critics lauding the film for its social relevancy and three-dimensionality of its characters, in particular Michael B. Jordan's villain Erik Killmonger. The movie is now "Certified Fresh" with a 97%, hardly a critical percentage to sneeze at.
Deadline broke down the records by market, which are summed up below.
United Kingdom: Black Panther earned $3.7 million, beating previous Marvel films Doctor Strange, Thor: Ragnarok, and Ant-Man. Black Panther also opened "16% ahead" of Deadpool, Fox's R-rated comedy based on the Marvel anti-hero.
Taiwan: Black Panther earned an estimated $1 million, beating Guardians of the Galaxy Vol. 2 and Ant-Man. According to Deadline, Black Panther is the third biggest February movie opening ever in the East Asian state.
Hong Kong: Black Panther opened to $500,000, putting it behind the 2016 Chinese blockbuster The Mermaid, which was the biggest movie ever in China until Wolf Warrior 2. Keeping to the theme, Black Panther surpassed the openings for Guardians of the Galaxy Vol. 2 and Ant-Man, the latter of which was considered a giant hit in the Asian market.
It's a good day to be the king. And with the upcoming President's Day weekend, it's going to be a very good month for T'Challa.
Marvel's Black Panther will hit theaters in the U.S. on February 16.