'Black Panther' Comic Book Writer Explains Shuri's Origins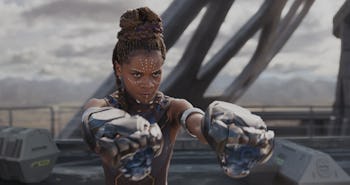 Marvel Entertainment
T'Challa may be the hero of Marvel's Black Panther, but everyone is talking about Shuri. In a new interview, the man who created Shuri in the Black Panther comics reveals why he gave the King of Wakanda a younger sister, who he says was always going to take over as Black Panther at some point.
On Tuesday, former BET entertainment president and comic book writer Reginald Hudlin told Vulture why he came up with Shuri during his time writing Black Panther for Marvel Comics. For starters, it made sense that royalty would not have just produce one offspring. "It just seemed for me that, again, when you're royalty, you're not just gonna have one kid. You gotta have an heir and a spare, right?" Hudlin told Vulture.
Hudlin's reasons didn't stop there. As a father to a son as well as a daughter, Hudlin knew the power of gender representation. He also knew Shuri was going to take over for T'Challa as the Black Panther from the start.
"I wanted everyone who read the book to be empowered. I wanted girls who read the book to feel as empowered as boys. So, I wanted her to be smart and tough and brave and everything you think of as a Black Panther, so that eventually she would be a Black Panther as well. Basically, I wanted a Halloween costume for my son and my daughter."
In a relaunch of Hudlin's run in 2009, T'Challa was beaten out of the mantle of Black Panther (it's a long story) and replaced by his sister, Shuri. Shuri served as the Black Panther of Wakanda for several years, until once again her and her brother's roles were reversed. At the beginning of Ta-Nehisi Coates's run on the comics in 2016, T'Challa is seeking a way to revive Shuri, who is suspended in animation waiting to be healed.
In Ryan Coogler's Black Panther, Letita Wright plays Shuri, portraying a somewhat younger and more energetic version of Shuri than Hudlin imagined in the comics. But just like the comics, Shuri is an engineering genius boosted by Wakanda's near-endless supply of Vibranium resources. In the film, Shuri alone perfected Wakanda's public transportation while also upgrading T'Challa's Black Panther suit with unbelievable features. She also loves internet memes, but you'll see that soon enough.
Marvel's Black Panther will hit theaters on February 16.