The 7 Best 'Black Panther' Comics to Read Before the Movie
From McGregor to Coates, here are all the greatest 'Black Panther' comics in Marvle history.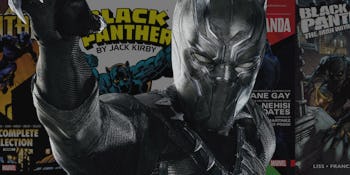 Marvel Entertainment
Marvel's Black Panther will finally have his big budget solo movie later this month, on February 16. But the King of Wakanda has ruled in comics since 1966. From Don McGregor to Christopher Priest, to current writer Ta-Nehisi Coates, all Black Panther scribes have allowed readers to witness the trials and triumphs of T'Challa.
Black Panther, directed by Ryan Coogler, follows the new king of Wakanda, T'Challa (reprised by Chadwick Boseman) return home to his kingdom. But there's no rest for the weary, as T'Challa must suit up again as Black Panther when an outsider terrorist, Erik Killmonger (Michael B. Jordan) aligns with the ruthless Ulysses Klaw (Andy Serkis) to depose the throne.
While Marvel flms often lift from the comics, the filmmakers of Black Panther have carefully curated key defining aspects to the character's fifty-plus years of stories. Throughout the two-and-a-half hour extravaganza, comic veterans will easily spot where the filmmakers modeled after McGregor or Priest.
With so many comics, there's no shortage of material for newbies to indulge. So, if after walking out of the theater you're feeling the itch for more Black Panther, hit up your local comic book shop or Comixology and pick up these shelf-friendly trade paperback collections.
1. Black Panther by Christopher Priest, Volumes 1-4 (1998-2004),
Black Panther wasn't always an icon. After his debut in the sixties and the original Don McGregor and Jack Kirby runs in the seventies, Black Panther went MIA for years — that is, until the nineties, when Marvel editors Joe Quesada and Jimmy Palmiotti made something special: Marvel Knights.
There's a whole history lesson to be told with Marvel Knights, but the gist for now is that Quesada and Palmiotti were given four Marvel characters — Daredevil, Punisher, Black Panther, Inhumans — and creative freedom to hire the best writers. For Daredevil, they got *Kevin Smith. When it came to Black Panther, they went after the exiled writer, Christopher Priest.
Priest initially balked at being a black comics writer writing the black superhero title. It took more convincing, and a really funny episode of Friends, to change his mind. And it was in Priest's Black Panther where he introduced Everett K. Ross (played by Martin Freeman in the film), a hapless government agent dwarfed by T'Challa's imposing royalty. Ross frequently finds himself way over his head, to the delight of readers.
Besides being laugh-out-loud funny, Priest's Black Panther reintroduced T'Challa to a new generation, who became so popular that he now has a critically-acclaimed movie today. Though T'Challa finds himself stuck in pre-hipster Brooklyn for a large portion of Priest's long tenure, Priest's Black Panther is an ideal jumping-on point for Black Panther newbie, who are treated with action and humor in equal doses.
2. Black Panther by Reginald Hudlin, Volumes 1-3 (2005-2008)
After Priest ended his run, filmmaker and former BET president Reginald Hudlin took over, teaming up with several artists (including John Romita Jr.) to retell the origin of T'Challa in a relaunch of Black Panther.
Over the next five years Hudlin explored the nuances of Wakandan culture more closely than his predecessors, and even got T'Challa hitched with the famed X-mutant, Storm. Hudlin also wrote Black Panther through several major Marvel crossovers, including House of M, Civil War, Secret Invasion, and Dark Reign, though it wouldn't be T'Challa when the events of Dark Reign came rolling around.
Critical reviews are hailing Letita Wright as a standout in her onscreen performance as Shuri in Black Panther. So when Shuri becomes your new favorite Marvel hero, witness her time holding the mantle of Black Panther in the final years of Hudlin's run.
Captain America thinks highly of Wakandans and Black Panther, alluding to a history that was never really explored — until Flags of Our Fathers.
In between his two big runs, Hudlin teamed up with illustrator Denys Cowan in a four-issue series that showed what happened when a younger Captain America met T'Challa's grandfather, King Azzari the Wise, who held the mantle of Black Panther during World War II. Featuring the Howling Commandos, Captain America/Black Panther: Flags of Our Fathers is an afternoon binge complete with Black Panther punching Nazis. There's nothing better than that.
In aftermath of the 2010 crossover Shadowland, Daredevil asks T'Challa to guard Hell's Kitchen in his stead. That leads to the unlikely pairing of the Wakandan king — without his Vibranium suit and the riches of his throne — to protect everything between 34th street and 59th.
It's a bizarre scenario that requires a lot of suspension of disbelief, even for a comic book, but David Liss gave longtime Panther fans a fresh take on the character, who goes up against the likes of Kraven the Hunter, Lady Bullseye, and Vlad the Impaler.
6. Black Panther by Ta-Nehisi Coates (2016)
Black Panther never disappeared in the 21st century, but he was left without a solo series until The Atlantic journalist and Marvel superfan Ta-Nehisi Coates began a new volume in 2016. Starting with the story-arc A Nation Under Our Feet, Coates's Black Panther sees T'Challa deal with a Wakandan insurrection while attempting to revive his sister, Shuri.
Coates's run on Black Panther has proved immensely successful, inspiring spin-off titles like 2016's Black Panther: World of Wakanda by Roxane Gay and Yona Harvey, 2017's Black Panther and the Crew, and 2018's Rise of the Black Panther co-written by Evan Narcisse. All of them are worth checking out.
There's no better place to end than the beginning. After Panther's debut in Fantastic Four, his popularity encouraged Marvel to begin a whole series revolving around their new star. Thus Panther began his solo journey in the pre-existing Jungle Action magazine, which aside from its cringey title had Don McGregor introduce the villain Erik Killmonger, played by Michael B. Jordan in the film. The collection, available both digitally and in print, also includes Black Panther's first appearance in the Fantastic Four #52 and #53.
Marvel's Black Panther hits theaters on February 16.