Why 'Black Panther' Could Fundamentally Alter the Movie Business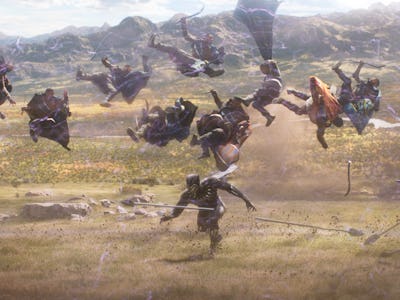 Marvel Entertainment
Marvel's Black Panther is on track to having one of the biggest opening weekends for a Marvel movie, currently on track to gross a whopping $170 million in its first three days, but the impact of Ryan Coogler's film could be even greater.
On Wednesday, the LA Times quoted experts who are predicting the seismic impact Black Panther may leave on the film industry. Citing a more diverse moviegoing audience who seek riskier stories as well as familiar franchises, experts believe Black Panther will influence studios to pursue new superheroes and franchises that come built-in with bold ideas.
"Audiences of color are driving box office and they're driving ratings," said Darnell Hunt, the dean of UCLA's social sciences, told the LA Times. "Hollywood, if it wants to remain viable, will need to produce what the audience wants, and the audience is becoming more diverse by the day."
For Black Panther specifically, Hunt argues that the film represents "a great opportunity to demonstrate the box-office power of this type of storytelling." Evidence of Black Panther's financial prowess are already evident, as pre-sale tickets on Fandango have surpassed that of than any superhero movie, ever.
"There aren't many examples of African American directors being given that kind of opportunity to make a big-budget movie with a black cast and a global marketing campaign," he added. "This film, on both the cultural and economic fronts, has the potential to be a powerhouse."
Black Panther, created by Stan Lee and Jack Kirby in the sixties, was one of the first black superheroes in mainstream comic books. The character made his cinematic debut, played by Chadwick Boseman, in 2016's Captain America: Civil War. Boseman reprises his role in Black Panther, from Creed and Fruitvale Station wunderkind Ryan Coogler.
Box office analyst Jeff Bock adds that there is a rarity of movies for African American audiences, and even fewer movies that have a wider appeal. "It just seems like this is becoming a major event," Bock told the LA Times. "People forget how few movies there are for African American audiences, so when you combine that audience with the regular Marvel crowd, of course this is going to be huge."
There is, however, precedent for a cross-audience appeal for films with black stories told by black actors. Thirty years ago, the John Landis comedy Coming to America, in which Eddie Murphy played an African royal who falls in love with a girl from Queens, was a massive box office hit that's survived through regular play on cable television. In 2017, Jordan Peele's socially-conscious horror film Get Out was a commercial phenomenon that is now competing for some of the most prestigious awards in the industry.
"It's about keeping up with the times and putting characters into story lines that are relevant," Bock added. "They've got to continue to take risks." As for Marvel, backed by the deep pockets of Disney, that could only mean more films based on fan-favorite but little-known ethnic minority superheroes may be in store. Hopefully in a few years, Marvel fans will buzz over a Ms. Marvel or Shang-Chi movie as much as they have for Black Panther.
Marvel's Black Panther will hit theaters on February 16.