3 Other Countries That Have Been Disqualified from the Olympics Like OAR
Usually it's for humanitarian reasons.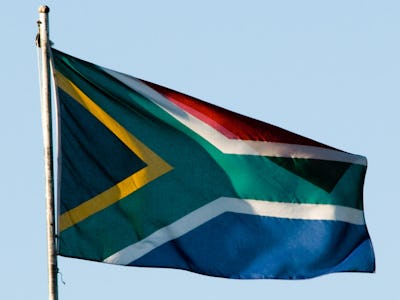 Wikimedia / File Upload Bot (Magnus Manske)
Russia's ban from the 2018 Winter Olympics in Pyeongchang — and the subsequent creation of "Olympic Athletes of Russia" or OAR — is an unprecedented move by the International Olympic Committee (IOC). But while no other country has been outright banned from Olympic competition because of a state-sponsored doping program, other nations have been disqualified for political and humanitarian reasons. Here are three countries that were barred from the Olympic Games throughout history:
South Africa
Before the 1964 games in Tokyo, the IOC issued a mandate to South Africa to eliminate racial discrimination in sports or have their invitation to the Olympic Games withheld. Up until that point, South Africa, which was under apartheid, had only sent white athletes to the Olympics.
South Africa remained disqualified until the 1992 games in Barcelona, when South African had begun the process of deconstructing apartheid.
Rhodesia
Four days prior to the start of the 1972 games in Munich, Rhodesia (now known as Zimbabwe) was prohibited from participating in the Olympics when a coalition of African countries threatened to boycott the competition if Rhodesia was included.
Protesters argued that Rhodesia was under illegitimate rule by British subjects and that the country was led by an all-white minority. The United Nations agreed, and the IOC responded by banning Rhodesia from competition with a 36-31 vote.
Afghanistan
Afghanistan was banned from the 2000 olympics in Sydney for humanitarian reasons. The IOC argued that Afghanistan's Olympic Committee, run by the Taliban, discriminated against women by completely banning them from sporting competitions.
The country was reinstated by the IOC in 2002, after the Taliban lost control of the Afghanistan Olympic Committee. Afghanistan was back to competing at the 2004 games in Athens.
You Might Also Like: Scary Physics of 'Curve 9' Leads to Terrifying Olympic Luge Crash