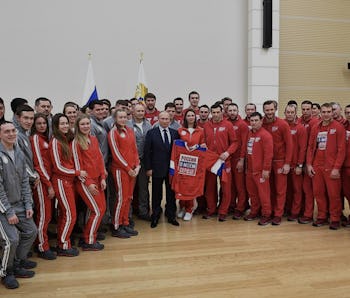 Culture
Why Russian Athletes Are Competing Under "OAR" at the Winter Olympics
Wikimedia / Kremlin.ru
There's a new team on the olympic stage in Pyeongchang. It's not a new country, but a cohort of winter athletes competing under the moniker "OAR," an acronym that stands for the "Olympic Athletes of Russia."
OAR was created after the International Olympic Committee (IOC) banned Russia from Olympic competition in 2018 as punishment for illegal doping at the 2014 games in Sochi.
The state-sponsored doping program at Sochi was a conspiracy of the highest order. Russian officials circumvented the drug testing system, swapping out urine samples that would test positive for drug use with clean urine samples. Resultantly, Russian athletes who were using prohibited performance enhancing drugs remained eligible for competition.
To carry out such a well orchestrated plan under the close scrutiny of the IOC, the Russians engaged in a campaign of deception and subterfuge that was coordinated by powerful government officials. Russia's current Deputy Prime Minister Vitaly Mutko, who previously served as Russia's sports minister, was banned from Olympic activity for life because of his role in the doping program.
While IOC leaders wanted to send a strong message to Russia and the Olympic community, they didn't want to punish athletes who may not have participated in the doping program. Thus, they've allowed 169 Russian athletes not suspected of doping to compete independent of the Russian state as part of the OAR team. OAR athletes will compete in ice hockey, figure skating, and alpine skiing, among other events.
The IOC still excluded a significant number of Russian athletes. A last ditch appeal to reinstate 47 Russian athletes and coaches who were barred from competition failed early Friday, as the Court of Arbitration for sport upheld the IOC's decision to ban them on suspicion of doping.
OAR will be represented by the Olympic flag instead the Russian flag, and the Olympic theme song will replace the Russian national anthem if any OAR team member wins a medal.