Winter Olympics 2018: How You Can Live Stream the Re-Air Opening Ceremony 
You'll need an internet connection and a credit card.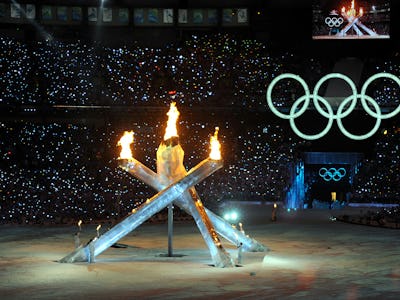 Wikimedia Commons
The opening ceremony of the 2018 Winter Olympics in PyeongChang, South Korea will begin bright and early at 6 a.m. Eastern on Friday, February 9. All Olympic coverage will be broadcast exclusively by NBC and its affiliated channels. There are actually a lot of ways to watch:
How To Watch The Opening Ceremony Live
If you're committed to getting up for the authentic experience, you can livestream the opening ceremony on either NBC's dedicated Olympics website or the NBC Sports app. You can access the website from a computer, or you can get the NBC Sports app on your smartphone, tablet, Xbox One, Roku, Apple TV, and some smart TVs.
Regardless of your device, you will need a subscription to log on to NBC's website or app. If you don't already have cable, you can get access to NBC's Olympics coverage by signing up for a streaming service like YouTube TV, Hulu with Live TV or Sling TV, among others. Subscriptions will cost you around $40/month.
Thankfully, all three services offer a free trial period for first time users. So if you're just interested in watching the opening ceremony and haven't already used up the grace period, you can sign up and enjoy a week of TV at no charge. Just remember to cancel your subscription before the free trial period is over.
How to Watch in Primetime
Old school viewers, and late risers, can eschew the early morning livestream and watch the opening ceremony when NBC re-airs the event on Friday at 8 p.m. Eastern. Because it will be broadcast on NBC proper, you can watch on your television with cable, satellite, or an antenna.
You can also revisit the opening ceremony at any time on NBC's Olympics website, where all previously recorded events will be available on demand. However, you'll still need that NBC subscription.