Film Professor Saves Hopeful Screenwriter From Evil Studio in 'The Purge' Lawsuit
The white knight rides a steed made of movie trivia to defeat the villainous studio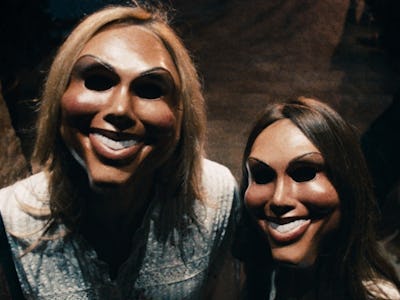 There are countless copyright infringement claims filed against movie studios every year. Some generate media buzz as far-fetched ploys to snare a big bag of movie money, while others hold fast in the courts because there's truth to the claim.
The latter category is at the heart of a current lawsuit filed by screenwriter Douglas Jordan-Benel against Universal Pictures and its 2013 thriller The Purge. The fledgling scribe saddled the studio with a copyright infringement notice, claiming that the core idea from his original script Settler's Day was ripped off by Universal, United Talent Agency and the film's writer-director James DeMonaco.
Understandably, Universal fought against the accusation and today lost a motion to dismiss the case. The U.S District judge presiding over the hearing stated that there was plenty of evidence to support Jordan-Benel's claims, as two UTA agents who received his script were directly involved in The Purge. Despite their passing on the script, as apparently they couldn't 'buy into' the premise, a film bearing a host of similarities to it opened less than two years later. The Purge went on to make $89 million worldwide.
What's fascinating is how the judge arrived at the decision to deny Universal's dismissal. To fully evaluate the two scripts - Jordan-Benel's original, and the shooting script penned by DeMonaco - the plaintiff submitted the testimony of film professor Richard Walter to back his claims. Yep, a full-time cinephile, who teaches at UCLA, he saved the day by imparting his years of movie wisdom to help the hopeful screenwriter in standing up to the corporate giant. He read both screenplays and surmised that "the similarities between Settler's Day and the Shooting Script are so striking that it is a virtual impossibility that the latter could have been created independently from the former."
It just goes to show that professors might ride you hard, and criticise the hell out of your paper analysing Tarantino's postmodern approach to mise-en-scene, but they'll happily deconstruct your screenplay for free to help your docket win. You still might wanna throw 'em an executive producer credit on your next film.