Elon Musk Reveals Why Falcon Heavy Could Be "Best Fireworks Display" Ever
Elon is sending some mixed signals.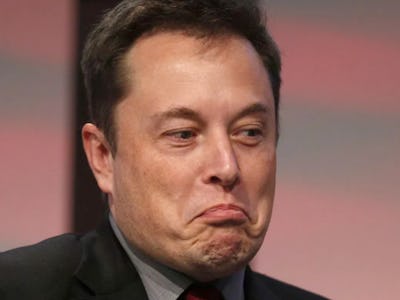 After years of delays, SpaceX's Falcon Heavy rocket will attempt to blast off on its maiden voyage from Cape Canaveral, Florida on February 6.
SpaceX CEO Elon Musk believes this moment will either shatter aerospace records or become a pyrotechnics show the likes of which the world has never seen.
"Whether the rocket succeeds or fails, it's going to be exciting," Musk told CNN Monday in an on-camera interview. "People [came] from all around the world to see what will either be a launch or the best fireworks display they've ever seen."
Way to add another corkscrew in the Falcon Heavy emotional rollercoaster, Elon.
This isn't exactly the pep talk you would expect from the creator of a $90 million rocket the day before launch. But Musk has in the past been brutally honest about the possibility that the Falcon Heavy could totally just blow up.
"Just bear in mind that there is a good chance this monster rocket blows up," Musk told Syfy Wire in December. "I wouldn't put anything of irreplaceable sentimental value on it."
That's a bit of an ironic statement, seeing as the the Falcon Heavy's payload will wholly consist of Musk's $200,000, cherry-red Tesla Roadster. But then again, he probably does have a few of those.
Musk has been sending some mixed signals about his confidence in a successful launch. On February 5, he released a simulation of a perfectly executed launch set to David Bowie's "Life on Mars." But that very same day he revealed three ways the launch could go terribly wrong: The three core boosters could interfere with one another, ice from the upper stage could damage the side boosters, or the boosters might fail to separate properly.
The Falcon Heavy was successfully able to fire up all of its rockets in an important pre-launch test. Now all there's left to do is to see if it can fly.
Regardless of what happens, remember that Elon promised it's going to be lit, one way or another.