Amtrak Crash Kills 2, Injures 116: Why Aren't We Doing Anything About It? 
This is the second deadly Amtrak crash this week.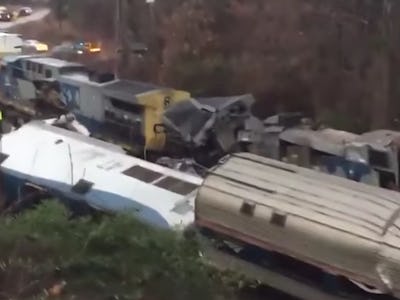 CBS
Early Sunday morning, an Amtrak train traveling from New York to Miami collided with a freight train in South Carolina, killing two Amtrak personnel, injuring 116 others, and spilling 5,000 gallons of fuel outside of the (literally) sleepy town of Cayce.
Amtrak Train 91 had 147 on board when it collided with a parked CSX freight train in Cayce, South Carolina around 2:35AM. In a statement, Amtrak explained, "The lead engine derailed, as well as some passenger cars," while the National Transportation Safety Board (NTSB) said on Twitter that it was launching an investigation into the exact cause of the derailment and crash.
After investigations into a 2016 crash in Chestertown, Pennsylvania, the chairman of NTSB had harsh words for Amtrak, saying: "Amtrak's safety culture is failing, and is primed to fail again…" And that seems to have happened this morning.
It is the [second fatal Amtrak train crash] this week. On Wednesday, a train that was carrying Republican Congressmen to a policy retreat hit a garbage truck en route in Virginia, resulting in the death of the truck driver.
In December, a passenger train making its inaugural run of a new route in Washington state jumped the tracks on an overpass outside of Tacoma, Washington and into incoming highway traffic. The crash killed three and injured 100 others.
According to statistics from the Federal Railroad Administration, Amtrak has averaged about two train derailments a month in the past few years, making up a quarter of all accidents. Most of these do not result in deaths and, as the New York Times reported in December, "Mile for mile, rail travel is much safer than road travel."
And yet, the accidents keep coming.
Why Are Amtrak Accidents So Frequent?
From a technical perspective, it's at least partially because most Amtrak trains do not use positive train control, which automatically slows or stops trains during key moments if the human operator does not do so.
NTSB has been recommending that Amtrak adopt positive train control for nearly fifty years, and after a fatal crash in California killed 25 in 2008, Congress required that all railroads install it by 2015 before giving the railroads another three years to fully comply.
Which brings us to 2018, when only a small number of railroads have positive train control installed. More precisely, y the end of 2016, only around 16 percent of freight tracks and 24 percent of passenger tracks had activated PTC. 41 percent of passenger locomotives and 42 percent of freight trains had also acquired the technology.Amtrak's busy Northeast Corridor line has complied, for example, while New Jersey Transit is still not where it needs to be.
And who's to blame? While private freight and railroad companies are part of the problem, since they have been slow in updating their safety systems, perhaps the bigger one is federal and state governments, which have neither regulated the industry as much as they should have, nor appropriated enough funds for the necessary infrastructure upgrades.
Instead, Amtrak is expected to do a lot on very little, as Jordan Fraade, a journalist that covers transportation and housing, wrote in 2015 after a crash outside of Philadelphia killed eight and injured 200 of its 240 passengers and staff on board.
It was a folly to expect, he wrote, "a crucial transportation service to be profitable without significant government subsidies. There are a few examples around the world of profitable large-scale passenger rail systems. Japan's national railways, which were privatized in 1987, are the most famous. But most developed nations provide national funding to make their rail systems work.
President Trump spoke of investing $1 trillion in America's infrastructure upgrades — which would also include bridges and highways — but has also proposed cuts to Amtrak's budget. His infrastructure plan, finally announced in January 2018, was lacking in details on what exactly would be funded, and by whom.
Those details, apparently, will be worked out by Congress.
Additional reporting by Inverse staff.