Why Positive Train Control Could Have Prevented the Amtrak Derailment
The technology was federally mandated in 2008.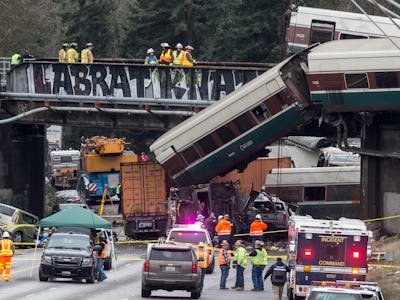 Getty Images / Stephen Brashear
Following the derailment of an Amtrak train outside Tacoma, Washington, that killed three people Monday, federal investigators confirmed the train had been traveling at 80 mph on a stretch of track meant to be driven at only 30 mph.
Although the Seattle-to-Portland route was traveling on new tracks meant to accommodate faster service, an Amtrak official said that the train was not using a technology called positive train control (PTC), which can prevent trains from derailments caused by speeding.
In 2008, a head-on collision between a passenger train and a freight train in Los Angeles prompted Congress to mandate that PTC be implemented on all major rail lines. Although the additions were supposed to be completed by 2015, the sizable cost of adding the technology has inhibited it from happening across the board. Railway-technology.com outline the massive cost in this article from June:
Calculated to cost up to $22.5bn during the next 20 years, PTC is the single-largest regulatory expenditure ever imposed on the industry by the Federal Railroad Administration (FRA), according to the Association of American Railroads (AAR).
By the end of 2016, only around 16 percent of freight tracks and 24 percent of passenger tracks had activated PTC. 41 percent of passenger locomotives and 42 percent of freight trains had also acquired the technology. It's a complicated and lengthy process to implement PTC because of how it works. According to Railway-technology.com:
Before heading out on a trip, the train's onboard computer downloads information about the route, so it will know when brakes should be activated and apply them if anything goes amiss.
Although the system cannot prevent all accidents, it drastically increases safety by averting train-to-train collisions, derailments caused by speeding, train movements through misaligned track switches and unauthorised train entry into work zones.
Since the tech requires trains and train lines to be updated with the latest technology to accommodate PTC, as well as a complete database of all switch and signal locations — which tend to change on the regular — railroad companies have pushed their deadline to implement to 2018 and, for some, 2020. Amtrak's deadline has been set at 2018.
Monday's crash occurred during the first trip on a new route through Washington state. The Amtrak Cascades 501 ran off the track, causing 13 cars to tumble off an Interstate 5 overpass into morning rush hour traffic. No motorists were killed, as the three fatalities occurred in the train.