7 Wireless Chargers for iPhones, Androids People Absolutely Swear By
Fumble around with one cable fewer with these well-reviewed charging pads.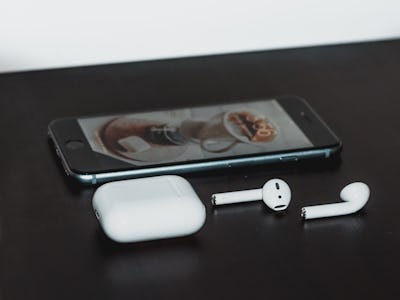 Unsplash / Ben Kolde
After a couple of false starts — can you believe Nokia tried to make it a "thing" as far back as 2012? — wireless charging is finally all the rage. There's something very satisfying about plonking your phone down on a little disc on your desk and seeing the battery icon turn green, and after giant cables, it's the best thing to happen to phone batteries in a long time.
Sometime this year, Apple will be getting into the game with its own purpose-built AirPower charging pad. No doubt it'll be very sleek and fast and reliable and expensive. Until then, here are some other wireless charging pads already on the market that people swear by.
Anker, one of the most reliable mobile technology companies in the game, has done it again. Their fast-charge pad is sleek and will juice up your phone just as fast as a USB wall charger. The only downside is their proprietary AC wall adapter, needed for the "fast charge" feature, doesn't come included. [Amazon, $26]
A stunning, uniquely-designed charger that won't look out of place on even the most discerning of well-curated home office desks. [Amazon, $15]
One of the pads that Belkin designed in tandem with Apple specifically to work with the inductive charging technology built into the iPhones 8, 8 Plus, and X. Even at its very Apple-ike price point, the discerning public have rated it at four stars on Amazon. [Amazon, $59.87]
At $14 and with a 5-star rating after over 200 customer reviews, this little thing must be special. Here's a dirty little secret: wireless charging is still in its infancy! Charging times, even on the same pad with the same device, can differ pretty wildly. The Cubevit isn't only a good budget option, it's one of the best, period. [Amazon, $14]
A nice, nifty design at a very not-intimidating price. What's not to love? The Yootech, like our Anker pick, does require the extra purchase of an AC adapter, though. What is it with wireless chargers and AC adapters? [Amazon, $13]
Samsung's budget wireless charger is just about perfect for, well, everyone. It might not offer the fastest speeds on paper, but, like we said before, that hardly matters at the moment. [Amazon, $27]
Look at this viewing angle! A neat design quirk on a very good charger. Though, as it once again pains me to say, all together now: NO WALL ADAPTER INCLUDED. [Amazon, $27]