Potatoes Grown on 'Alien Turf' Will Prevent Future Humans from Starving
'They're water bears in the ground, pretty much."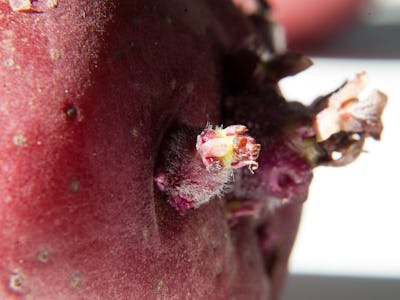 Flickr / Steve A Johnson
Few can call themselves more of a potato enthusiast than the Weather Channel's science editor, James Crugnale. He, like a growing number of spud science aficionados, believe the potato is the key to providing food for potential Martian colonists in the future.
"Potatoes are one of nature's most fantastic vegetables," Crugnale told Inverse at the Inverse Lunar Eclipse Party and Science Fair at Caveat in New York City, where he explained just how hardcore taters can be.
"They can be grown under very harsh circumstances. They're one of our most versatile vegetables," he said. "What's so amazing about them is that they're almost like the tardigrades of vegetables. They can go to some alien turf and still you can find a way to grow them, unlike many other foods. They're water bears in the ground, pretty much."
His booth highlighted experiments conducted by the International Potato Center (CIP) in Lima, Peru in 2016, that proved potatoes can grow synthetic soil that mimics Mars' surface. So if we ever make it there, growing crops on Mars might actually be possible and not just some cool sci-fi concept from The Martian.
While potatoes could help sustain a Martian community, they're also likely to become even more essential in the nearer future. Crugnale pointed out that the potato will become crucial once the effects of climate change start ramping up.
"Climate change is going to make conditions on the planet very difficult for growing food," he explained. "It's cool to think that maybe we'll grow potatoes on Mars one day. But there are millions of people that are going to need a way to survive extreme temperatures and droughts. The potato kind of offers a lot of hope of the future."
So get ready for a future full of tubers, which is totally alright with us. I mean, who doesn't like french fries?