10 Movie Trailers to Watch For During the Super Bowl on Sunday
There's more than the big game to get ready for this weekend.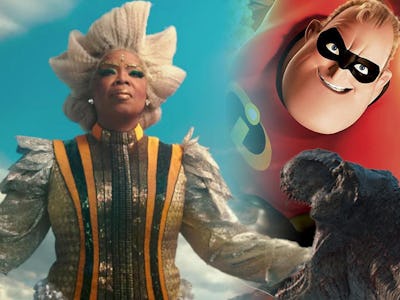 Disney/Universal
The Super Bowl is this weekend, and while some people are eager to see if the New England Patriots or the Phillidelphia Eagles will win the big game while enjoying a beer and guacamole-filled party with friends, others will be keeping an eye out for new footage from their favorite upcoming movies. Commercials are, obviously, a big part of the Super Bowl, but in addition to Budweiser Clydesdales, the Sunday night event usually brings out a bunch of highly anticipated new trailers and TV spots for upcoming blockbusters.
Last year's Super Bowl saw trailers for Guardians of the Galaxy vol. 2, Ghost in the Shell, Transformers: The Last Knight, Logan, and more. There are several similarly sized movies headed to theaters in the next couple months of 2018, and many are in need of a good trailer. Here's a list of the big films that could get new trailers at the Super Bowl, along with a couple that have already been confirmed.
1. Jurassic World: Fallen Kingdom
After escaping from an island full of rampaging dinosaurs Owen (Chris Pratt) and Claire (Bryce Dallas Howard) are heading back –- this time to save the dinosaurs from death. The next chapter in this popular franchise is slated to premiere this year and Super Bowl viewers will be seeing glimpses at what the upcoming film has in store.
How likely: Confirmed
2. Cloverfield 3
The third Cloverfield movie centers on a group of astronauts who have to fight for their survival while on a space station. David Oyelowo, Gugu Mbatha-Raw, Elizabeth Debicki and Daniel Brühl are among the cast of the film directed by Julius Onah. Recently there have been rumors that Netflix will acquire the film, which is set to premiere in April, so the streaming service to share their trailer, as well as confirm their involvement, during the big game. It's what they did with Stranger Things last year.
How likely: Confirmed
3. A Wrinkle in Time
The Ava DuVernay-directed sci-fi adventure film has the cast of big names, franchise recognition and buzz perfect for a Super Bowl movie trailer choice. The new adaptation of the beloved 1962 novel centers on a young girl named Meg Murry, played by Storm Reid, who goes on an epic adventure to find her father. The Disney Pictures film also stars Reese Witherspoon, Mindy Kaling and Oprah Winfrey.
How Likely: Possible
4. Mission: Impossible – Fallout
Tom Cruise is back at with another Mission: Impossible film. He has already begun promotion for the sixth installment Mission: Impossible – Fallout, so the Super Bowl is a great time to share some footage for the major action film.
How likely: Confirmed
5. Avengers: Infinity War
If there's one franchise to expect footage from at the Super Bowl, it is Marvel. Several of the films from its cinematic universe have released trailers and TV spots during the major sporting event and with one of the biggest films to date, Avengers: Infinity War, on the way fans should expect to see something.
How likely: Very likely
6. A Quiet Place
Emily Blunt and John Krasinski team up for horror film A Quiet Place. The film centers on a family who is targeted by a supernatural evil that is attracted to sound. To survive they must keep quiet and communicate using only sign language.
How likely: Confirmed
7. Solo: A Star Wars Movie
The highly anticipated Han Solo film Solo: A Star Wars Story is hitting theatres in May, but nothing has been released. We do know that Alden Ehrenreich is playing Han Solo and the cast includes Donald Glover, Emilia Clarke, and Thandie Newton, and that's about all we know, since there hasn't been a trailer yet. Disney could change that and potentially give the film a huge boost by debuting a trailer at the Super Bowl.
How likely: Possible
8. Black Panther
With the February 16 premiere date quickly approaching, Marvel could save the final trailer for Black Panther for the Super Bowl. The film may be highly anticipated, but that's never stopped Marvel before and more promotion can only help. The initial response to the film has been extremely positive, so anticipate one last promotion bump before the film hits theaters.
How likely: Very likely
9. Skyscraper
On the heels of the very successful film Jumanji: Welcome to the Jungle, Dwayne Johnson has action film Skyscraper coming up this year. The potential summer blockbuster centers on Will Ford, who spends his days assessing the security of … well, skyscrapers, but used to be an FBI hostage rescue team leader. When he is framed for setting the tallest and safest building in China on fire while on assignment, Ford must clear his name, take down the bad guys and save his own family.
How likely: Confirmed
10. Incredibles 2
The Incredibles are reuniting and the high anticipation for the sequel makes this a great choice for the Super Bowl. Fans of the original film have been waiting for over a decade for The Incredibles 2, so with the official greenlight a full trailer, or any new footage, would surely generate some online conversation and buzz for the upcoming sequel.
How lIkely: Possible
Super Bowl LII will air at 12:30 p.m. Eastern on February 4 on NBC.