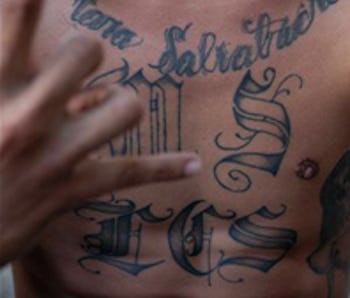 Culture
What is MS-13? The Gang Trump Named Is Actually Homegrown
But he's using it for his anti-immigration agenda.
Flickr / Michael Vadon
On Tuesday night, President Donald Trump bemoaned the crimes of the MS-13 gang in his first State of the Union address. Late in the speech, Trump addressed the families of Kayla Cuevas and Nisa Mickens, two teens who were murdered by MS-13 members on Long Island in 2016.
"Six members of the savage gang MS-13 have been charged with Kayla and Nisa's murders," Trump said. "Many of these gang members took advantage of glaring loopholes in our laws to enter the country as unaccompanied alien minors and wound up in Kayla and Nisa's high school."
Trump was referencing the wave of immigrant children who fled to the United States from Central America in 2014. These unaccompanied minors, mostly from Honduras and El Salvador, were escaping gang violence in their home countries.
MS-13, also known as Mara Salvatrucha, was actually formed far earlier, in the Eighties in Los Angeles, by Salvadorians fleeing El Salvador's civil war. Since its inception, the gang has also come to include Hondurans, Guatemalans and Mexicans. From L.A., MS-13 expanded across the country, and a law enforcement crackdown in the Eighties and Nineties saw the deportation of gang members back to their home countries. Thus, in 2012, MS-13 gained enough traction in Central America to be registered as a "transnational criminal organization" by the FBI.
A renewed attention to MS-13 is the result of recently increased criminal activity in New York's Suffolk County on Long Island. Since 2016, MS-13 members have killed 17 people on Long Island alone, including Kayla Cuevas and Nisa Mickens. The density of these crimes has made arresting MS-13 members a high priority for Immigration and Customs Enforcement (ICE) agents.
But in casting a wide net to capture MS-13 members, ICE agents have often swept up unaffiliated immigrants in the process, according to NPR. One high school-aged girl interviewed by NPR, for example, had no criminal history and was accused of being a MS-13 member simply because she was spotted at her high school with known gang members. She spent a month in the immigration wing of a jail in New Jersey before being released with no charges.
When suspected gang members are discovered to be undocumented, police can also notify immigration officials. This in effect is creating a pipeline to deportation for a wide net of Central American young people who have settled in Long Island.
Trump blamed the rise of MS-13 on lax immigration enforcement. "For decades, open borders have allowed drugs and gangs to pour into our most vulnerable communities," Trump said. "Most tragically, they have caused the loss of many innocent lives."
According to an Associated Press fact-check the term open borders is a stark exaggeration. Border arrests, which the AP calls an "useful if imperfect gauge of illegal crossings," have dropped sharply over the last decade.