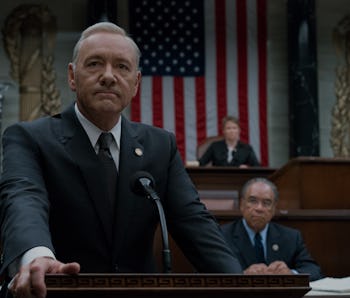 Entertainment
Netflix Casts Two Big Names to Replace Kevin Spacey in 'House of Cards'
Oscar-nominated actors Diane Lane and Greg Kinnear will join the Netflix hit's swan song.
Netflix
President Claire Underwood is going to have some new faces in her White House.
On Wednesday, the revamped sixth and final season of Netflix's House of Cards has cast Oscar-nominated actors Diane Lane (Justice League) and Greg Kinnear (Electric Dreams) as production resumed. Details regarding Lane and Kinnear's characters are scarce, but the two veteran actors are set to play siblings.
Work on House of Cards halted following sexual assault allegations against star Kevin Spacey, who starred as the vindictive Frank Underwood. After the allegations surfaced in late October 2017, Netflix eventually fired Spacey from the show, forcing production to temporarily halt while writers reworked the scripts to focus on Robin Wright's character, Claire, who ascended to POTUS in the Season 5 finale.
Netflix confirmed to TVLine and TIME that the decision to end House of Cards came months before the allegations.
Sci-fi and comic book fans may be familiar with both Lane and Kinnear. Besides her role in the 2005 drama Hollywoodland about the suicide of Superman actor George Reeves, Lane played Martha Kent in the DC cinematic universe, including 2013's Man of Steel, 2016's Batman v Superman: Dawn of Justice, and 2017's Justice League.
Kinnear, whose first film credit is the 1994 superhero comedy Blankman, recently starred in an episode of Amazon's Philip K. Dick sci-fi anthology Electric Dreams.
House of Cards, which loosely adapted a 1990 British thriller of the same name, premiered in 2013 as Netflix's first major original series. The show originally focused on Frank Underwood, a Democratic congressman from South Carolina characterized by his ruthlessness, sociopathy, and penchant for first-person shooter games. Like the British series, Frank often had sidebars where he spoke directly to the audience, without any other characters noticing (except Claire). In the show's second season, Frank schemed his way into the Oval Office, but subsequent seasons showed that no job is safe from sharks in the water.
House of Cards Season 6 doesn't have a premiere date yet.