It's National Plan for Vacation Day: 5 Tech Tricks to Help You Plan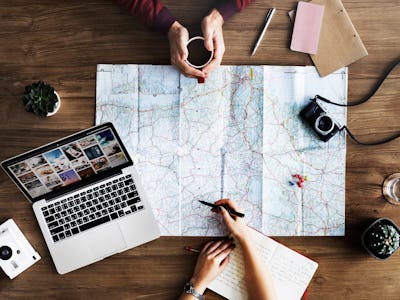 Unsplash / rawpixel.com
Americans are workaholics. Even when it comes to paid vacation days, American workers are reticent to leave the office and relax. Thus, January 30th has been dubbed National Plan for Vacation Day, as a way to promote a little more time off the clock.
Project: Time Off is one organization dedicated to changing vacation culture in the United States. The group is spearheading National Plan for Vacation Day as one way to ease our "work hard, keep working harder" mindset.
According to Project: Time Off's research, more than half of full-time American workers didn't use all of their paid vacation days last year. By forfeiting their paid vacation, employees "effectively donated an average of $604 in work time to their employer."
In addition to being financially unsound, skipping out on your vacation days can be physically harmful. Taking a vacation can help boost general feelings of well-being and cut stress levels.
One way to actually take advantage of your paid vacation time? Plan ahead. According to Project: Time Off, "A majority (52 percent) of workers who say they set aside time each year to plan out their vacation days take all their time off, compared to just 40 percent of non-planners."
To help with your planning, here are some tech-savvy tips to make the ultimate plans for your ultimate vacation:
5. Sign up for Scott's Cheap Flights
If you're flying to your destination, it's important to get a deal on that plane ticket so you can spend more money on the rest of your trip. Sometimes that means doing a search on travel fare aggregator SkyScanner, other times Google Flights will suffice. Either way, explore your options — there are a ton of tools out there to find the most affordable flight, and none of them need involve calling a travel agent. One easy way to find a deal is to sign up for Scott's Cheap Flights newsletter. Just go to the website, enter your email, and Scott will send you super cheap airline fares as they become available. Scottscheapflights.com
4. Get Some Teched-Out, Smart Luggage
Nothing will make your vacation suddenly not-ultimate like losing your stuff. Thankfully, you can now buy "smart luggage" that uses GPS to track your bags at all times. Some of the fancier suitcases can also serve as a mobile charging station for your phone. You can buy the Raden A22 for $295 if you're looking for a sleek carry-on, or the Barracuda carry-on for $349 if you want a pop-out table to support your laptop. The ultimate vacation deserves the ultimate luggage. Barracuda.co
3. Prepare to Hit the Road with Apps that Play Co-Pilot
If your ultimate vacation is a road trip, you're going to want to have lots of contingency plans. What if the main highway you were planning on taking is closed? What if you want to drive 100 miles in the other direction to see that cool national park you somehow forgot to include in your plans? You can use apps like iExit with real-time location tracking to show you what's ahead on the road. Search for whatever you need, and iExit will tell you exactly where to find it, and when to take the offramp. It will also help you can find the cheapest place to get gas, and the top rated diner on a lonely stretch of highway. Iexitapp.com
2. Find Cool Food First with BonAppetour
Wherever your ultimate vacation takes you, you're gonna have to eat. Instead of turning to mainstream apps like Yelp and TripAdvisor for restaurant recommendations, try visiting BonAppetour. This culinary travel website connects travelers with local chefs, giving gustatory adventurers the unique experience of a home-cooked meal. Bonappetour.com
1. Consolidate your Plans with Google Trips
The ultimate vacation requires tackling a lot of logistics. For a comprehensive, intuitive itinerary, try using Google Trips. This app allows you to plan and map out full days, stores all your reservations in one place, and recommends other activities in your area. Happy planning! Get.google.com/trips