5 Pieces of Smart Luggage to Transport You to the Future
iPhone chargers, GPS tracking... cup holders. These bags have it all.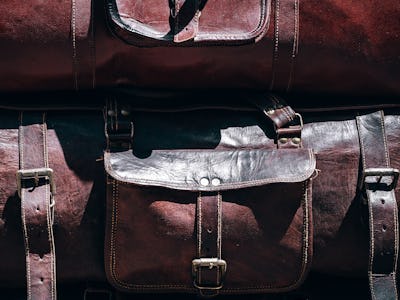 What's the worst thing about traveling? Trick question; it's everything. But one of the worst worst things is packing a bag, lugging said bag around various airport/train/bus terminals, jostling and buffeting your belongings within an inch of their lives.
Then there's checking your bag at the airport, an inhumane practice that should be banned by the UN. Lost luggage is still very much a thing, and it is a scourge on an already horrible experience.
Luckily, luggage technology has kept up with the rest of the world, and some of these petty grievances can now be resolved with just one new investment. Here's the very best "Smart Luggage" available, with all the bells and whistles you'd expect (none of these items feature bells or whistles. That would be terrible.)
5. Bluesmart One
The Bluesmart One is not without its teething problems: it's not the roomiest suitcase on the market, and the TSA (and, even moreso, international airport security) aren't fully hip to battery suitcases, so you might get a question or two. Still, it works. It comes with an internal USB battery pack, so you can charge your phone on the go. It has digital locks, and even GPS tracking via bluetooth. It's on Amazon, $287.99
4. Samsonite Geotrakr Spinner 21
No phone charger on this one, but Samsonite, the name brand in luggage for decades now, can be trusted not to skimp on the "luggage" portion of the equation. There is also, naturally, a tracker, so that lost luggage can become a thing of the past (it will still very much be a thing of the present but at least now you can tell Southwest with some degree of certainty that they sent your damn bag to Santa Fe.) It's on Amazon, $219.00
3. Barracuda Carry-On
The Barracuda is maybe the most jam-packed feature suitcase I've ever seen. It has [deep breath] a 360-degree handle, a 10,000 mAh battery pack, a digital scale, and even a LAPTOP TRAY COMPLETE WITH CUPHOLDERS. Make this thing 7 feet tall with a murphy bed and I would happily spend DAYS in an airport with this at my side. Get it at Barracuda, $284
2. The Samsara
The Samsara claims it can recharge your phone "up to ten times", which is nuts. it also has a flat top which functions as a table for your laptop on long layovers, and it sends notifications to your phone every time it's opened(!) It's received more than its required funding on Indiegogo and estimates its first deliveries on January 2018, which is [checks calendar] today. It's on Indiegogo, $435
1. ECEEN Hiking Daypack
It won't win any beauty contests, but for the day-tripper, the ECEEN is hard to beat. Waterproof; tough as nails; and has a removable solar panel so you can charge your phone AND save the environment. It's on Amazon, $49.99