10 Crucial Apps for the Ultimate Road Trip
Here are the mobile apps you need for all your road trip adventures.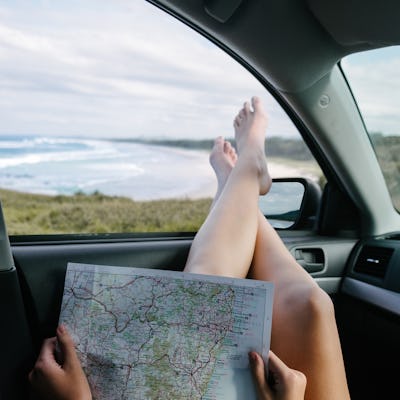 Unsplash / Leio McLaren
Hitting the road with your pals? There's an app for that, of course.
Up there with apple pie and baseball, road trips are one of America's top pastimes. But often, they're not as easy as throwing a duffle in your trunk and turning on a homemade mixtape.
Due to risks like car trouble and inclement weather, it's important to be ready for any obstacles on the road. We've rounded up the most helpful apps that get you from point A to point B and guide you through things to do on your adventure.
Here are all the mobile-friendly resources you need for the ultimate road trip.
10. Urgently: Free to download but pricing varies
The Urgently app is a global network of on-demand vehicle service to help you get back on the road. With the slogan "Roadside Assistance Reinvented," Urgently's services include towing, door unlocking, fuel delivery and flat tire replacement, among others. Urgently works with individual tow truck companies that join its network, so costs for on-demand service requests will vary by location and service type.
This one's a bit of a life hack. Ever want to recommend a pizzeria to a friend but can't remember the name of it? Using Foursquare's Swarm app is a great way to avoid the nuisance. (Also, remember Foursquare?) By bookmarking (aka checking into) restaurants, cafes, and even laundromats, you can document visits to some of your favorite local spots. To help you plan and share places with friends, the Foursquare app lets you to make or access lists curated by either friends or members of the Foursquare community. For example, you can check out "The 15 Best Places for Cocktails in San Francisco" list, so you can hit them up on your first night there.
Now there's an app for the longtime creepy-yet-useful roadside tradition of hitchhiking. "No need to stand by the road with your thumb up anymore. Hitchhike from the comfort of your home or office or wherever you are currently located," the Hitchhiker Carpooling app promises. The app offers the appearance of safety — with a Facebook or Google+ sign in — offer your car seat or request one from others to share the costs and make new lifelong friends. Similar to other ride-sharing apps, the passenger and driver can rate each other's service to help the platform generate a user ratings system.
If you're into finding local hidden gems, this app is for you. Field Trip by Google is your guide to find cool and oftentimes hidden places while traveling. The app runs in the background on your phone, and using your location, alerts you as you get get close to something interesting. Field Trip curates several feeds of local treasures you can scroll through. Categories include: Architecture, Historic Places & Events, Lifestyle, Offers & Deals, Food Drinks & Fun, Movie Locations, Outdoor Art and Obscure Places of Interest. For example, If you're a history buff, experts of Arcadia and Historvius will alert you to local facts and lore in places you're driving through. For the foodies, curated lists by TimeOut, Thrillist, Spotted by Locals, Zagat, and Eater will hint at hidden spots to eat and drink.
If you're looking to rest in luxury in between driving stretches, Hotel Tonight is known to offer the best last minute deals on rooms and suites. Just fire up the Hotel Tonight app for some some sweet deals on high end hotels and local B&Bs looking to fill their rooms last minute.
A favorite among truck drivers, iExit previews what's ahead when driving on interstate driveways, making it useful for planning your rest stops with friends. The app's integration with travel resources like Yelp, GasBuddy and Travel Coupons will help you find the best deals on gas, food and hotels at the next exit ahead.
The outdoor retail chain REI knows a thing or two about road trips. The REI Co-op Guide to National Parks offers a comprehensive guide to hiking and sightseeing to the best American National Parks. So if you're planning to cross Yellowstone or Yosemite off your bucket list, the app will guide you by providing trail and hike descriptions, live tracking on a terrain to keep you from getting lost, along with kid-friendly activity lists. It even has an offline feature for when you inevitably lose service in the woods.
3. Affordable Sleeping Arrangements - Free
There are so many apps for crashing on a couch, we had to group them into one category. Apps like Couch Surfing, Roomer and of course Airbnb will help you grab a room (or couch) for those last minute pit stops. Unlike a hotel, staying with the locals will help expand your list of recommendations and local finds. Not to mention you'll make new friends along the way.
2. Yelp - Free
An oldie but a goodie. Despite its algorithmic flaws, Yelp is one of the best local business resources online. Whether you're looking for the best TexMex while driving through the desert or the best jazz bar in New Orleans, Yelp's local reviews will help narrow down your options.
1. Roadside America App - $2.99 to download, in-app purchases include entire North America for $5.99 more, or $1.99 per region.
The ultimate mobile road trip guide, the Roadside America App was created by the experts behind the Roadside America website, known for its guides to quirky, offbeat tourist attractions. Through the app, you can get easy-to-use, in-depth info and maps of North America's most fun, and oftentimes weird, must-sees at your fingertips. Just choose a region and go! Regions covered include the Northeast, Southeast, Midwest, Southwest, Northwest and California.