How to Watch Piers Morgan Interview Donald Trump on Sunday in the United States
Morgan: "Ready when you are, Mr. President."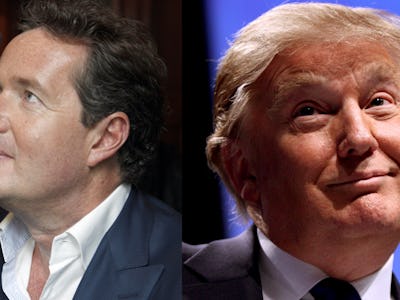 Flickr / Creative Commons
British media personality Piers Morgan will interview President Donald Trump on Sunday from Davos, Switzerland, where Trump is attending the World Economic Forum.
The network broadcasting the interview will be United Kingdom-based ITV, and it will air at 10 p.m. London time, or 5 p.m. Eastern time in the United States.
The interview won't be live, and the first segments will be aired on Good Morning Britain, of which Morgan is a co-host, at 6 a.m. London time (1 a.m. Eastern), on Friday.
In a tweet announcing the news on Thursday morning, Morgan declared: "I will sit down today in Davos with [President Donald Trump] for his first international TV interview since becoming President. It will air exclusively on ITV, this Sunday night at 10 p.m."
Inverse has reached out to ITV's corporate communications department to find out when the interview will air in-full in the United States and will update this story as soon as word comes in. Various live streams of the interview will likely be available online as soon as it airs, none of which are legal, but all of which will offer the first access to the interview.
The actual interview appears set for this morning, based on this tweet from Morgan:
Morgan's relationship with Trump goes back years. In 2008, he was the winner on the NBC reality show competition The Celebrity Apprentice, beating out country singer Trace Adkins, and KISS member Gene Simmons, among others. He traded digs with previous contestant Omarosa Manigault for most of the season. It was ugly and terrible. Morgan, arguably the most-hated supporter of Arsenal Football Club behind the terrorist Osama bin Laden, shares something else in common with the Trump family: Barron Trump, the president's 11-year-old son, supports the same team.