Forget 50 Cent: Could Snoop Dogg Have Been Even Bigger Bitcoin Millionaire?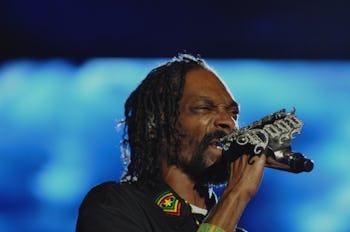 Flickr / Jason Persse
Rapper-turned-entrepreneur 50 Cent confirmed Wednesday that he had accidentally made millions from his decision to accept bitcoin as a form of payment for his 2014 album Animal Ambition. He's not the only world-famous recording artist who years ago considered accepting bitcoin — but unfortunately for Snoop Dogg, he appears to be the only one who actually followed through.
50 Cent's cryptocurrency windfall is a result of bitcoin's surging price. He had about $450,000 in album sales from bitcoin users, which in mid-2014 was the equivalent of 700 bitcoins. But now the price has leapt from $662 to north of $11,000, his long-neglected bitcoin wallet is closer to $8 million.
Seven months before 50 Cent released Animal Ambition, Snoop Dogg tweeted out the same idea, though it's fair to say one can detect just a pinch of sarcasm.
Never ones to turn down a business opportunity, bitcoin payment service BitPay and cryptocurrency exchange CoinBase both tweeted back to Snoop Dogg offering to set this up for him. He invited both to direct message him with their info, but nothing more appears to have come of it — nor did Snoop even bother to respond to drone data platform Skycatch's offer to handle the second part of his proclamation.
It wouldn't be until May 12, 2015, almost a year and a half later, that Snoop Dogg released his next album, Bush. And while bitcoin enthusiasts remembered his promise and found various indirect ways to pay for the album using the cryptocurrency, there wasn't the ability to pay Snoop himself in bitcoin. 50 Cent had officially partnered with BitPay to sell Animal Ambition on his site, which is why the eventual millions went directly to him. Any other bitcoin sales don't matter for this purpose.
Here's where we can do some quick math, though if you're Snoop Dogg and you're reading this, we recommend looking away now. (Maybe read our story on the Bitcoin Bowl instead, though we're afraid it's probably not the kind you're hoping for.)
Animal Ambition sold 205,000 total units, compared with 250,000 for Bush. Let's say Snoop would have had the same percentage of theoretical bitcoin sales, so $450,000 for 50 Cent translates to $550,000 for Snoop Dogg. And this is the painful bit if you're Snoop.
The value of bitcoin in May 2015 was actually much lower than it was in June 2014. On May 12, the price was $241, compared with $662 nearly a year earlier. That means Snoop's estimated cryptocurrency sales would have been the equivalent of about 2,282 bitcoins.
With bitcoin at $11,140 at the time of writing, that means Snoop Dogg stood to make — seriously Snoop, look away, maybe enjoy this beginner's guide to all the blockchain can do, or maybe this story on why cats are liquids — around $25.4 million if he had gone ahead with his tweeted promise. Even when your net worth is an estimated $135 million, that's quite a bit to leave on the table.
Then again, $25.4 million sounds about how much Snoop would have needed to cover the costs of the drone delivery part of his original idea. So maybe one hand washes the other on this one.