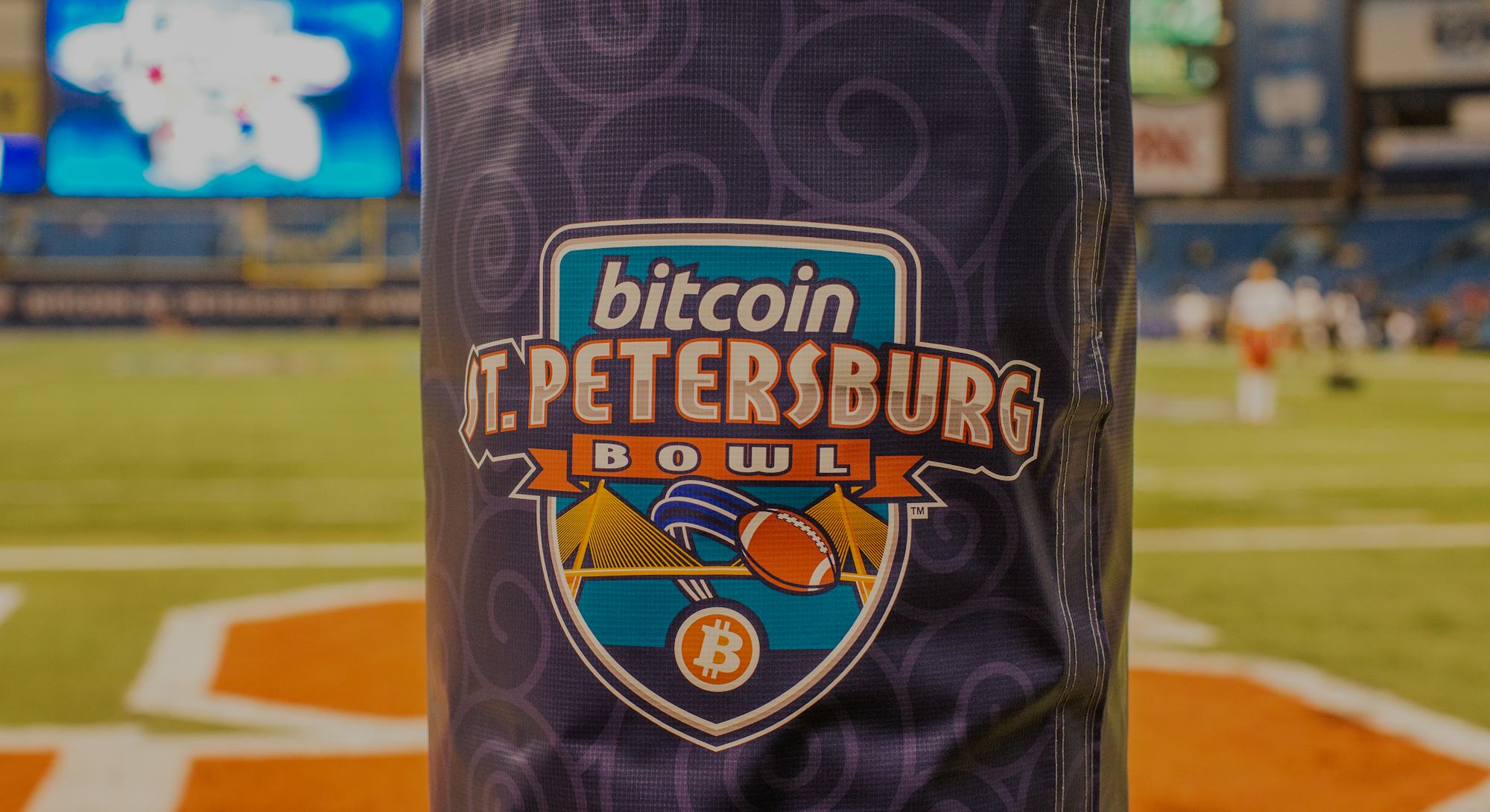 Innovation
The Bitcoin Bowl Was Too Weird for Its Time
For one beautiful, absurd night, blockchain met gridiron.
Flickr / CityofStPete
Bitcoin went mainstream in 2017, as the cryptocurrency's soaring value captured the popular imagination in a way it never had. But the first attempt at bitcoin's grand debut came three years ago this week, when the payment service provider BitPay sponsored the first and last edition of a college football game known as the Bitcoin St. Petersburg Bowl.
The idea of heralding bitcoin's arrival on the national stage by putting its name on a mid-tier college football exhibition game was strange from the start. College football fans and cryptocurrency traders may share similar levels of passion and arcane knowledge, but the subject matter is wildly different. Pairing the gridiron and the blockchain was always going to be an odd coupling.
Bitcoin Bowl summed up just where the cryptocurrency was in December 2014: not quite ready for prime time and hinting that it'd soon be a phenomenon. Then there was the million dollar phishing scam happening to BitPay around the same time. But we'll get back to that.
For Atlanta-based BitPay, sponsoring the Bitcoin Bowl had two goals: First, to provide a three-hour, nationally televised spotlight for bitcoin on the day after Christmas, with the 26,675 attendees able to buy tickets and concessions using the cryptocurrency.
It didn't just feel like a college football game, remembers bitcoin entrepreneur Nathan Wosnack.
"It felt more like a bitcoin showcase," Wosnack, now the CEO of the blockchain-based real estate company Ubitquity, tells Inverse. "There were bitcoin magazines. You had people looking at it saying, 'What the heck is this stuff?' It was everywhere. It was pretty exciting seeing all the vendor tables as people were walking in."
And even after the North Carolina State Wolfpack defeated the University of Central Florida Knights 34-27 and the Bitcoin Bowl was over, there was still the second goal for BitPay to achieve: The host city of St. Petersburg, Florida, would be established as a world bitcoin hub.
When Bitcoin Came to St. Petersburg
"We wanted to be the first city to adopt it in a big way," Christopher Steinocher, the president of the St. Petersburg Area Chamber of Commerce, tells Inverse. He says he knew nothing about bitcoin before BitPay came to town. "I literally felt like, 'Holy cow, I don't know anything,' I didn't even know what the concept is, the notion of it. I did not know anything."
A bunch of St. Petersburg businesses from local restaurants and bars to vintage furniture stores and the local history museum agreed to start accepting bitcoin, though the general sentiment is that this didn't actually translate to much crypto-commerce, if any.
"We didn't have anyone come in and use it or even ask about it," Jackie Williams, owner of the local store Furnish Me Vintage, tells Inverse. Apparently, that hasn't changed since the day of the game.
"We've never had anyone approach us about using bitcoin, ever."
Still, Steinocher says he remembers how excited he was the day of the game, loading bitcoin onto his phone and playing around with his virtual wallet. This was an early preview of the future, if not the reality.
"We were probably on the early end of the early adopting side," says Steinocher. "And so if nothing else, we were a couple years ahead of everybody else just in terms of understanding it."
A couple years too far ahead, perhaps. While BitPay initially signed a three-year agreement with ESPN to sponsor the game, the Bitcoin Bowl ended up being a one-time deal. Steinocher says he and his organization were still working on integrating bitcoin into local businesses when they heard the news in mid-2015, at which point the plans were largely dropped and the cryptocurrency's potential largely forgotten… until its recent explosion in price.
"You're talking to somebody who wishes he would have invested a couple thousand dollars in it a few years ago when I had the chance," Steinocher says. "Seeing what the coin is worth today, I wonder if that wasn't my retirement that just sailed by me. We knew there was something there."
Bowl-Sponsoring Bitcoin's Way to Legitimacy
College bowl games represent America's single weirdest advertising opportunity. Companies have a chance to sponsor one of the few dozen events comprising the sport's bizarre historical accident of a postseason, in which each December team is paired off, seemingly at random, and sent to an equally random set of mostly warm-weather cities to play meaningless exhibition games.
Since 2008, St. Petersburg has hosted the bowl at Tropicana Field, also home of the Tampa Bay Rays. Its sponsors have included magicJack, the gadget that lets you plug your phone into your computer's USB port, as well as the Tampa-based restaurant chain Beef 'O'Brady's, home of the Cheesy Bacon Pub Chips and Boom Boom Shrimp. Most recently, the lawn care company Bad Boy Mowers was a sponsor. But in 2014, the game belonged to bitcoin.
In that context, a Bitcoin Bowl doesn't seem all that remarkable. For the teams in the game, bitcoin's presence didn't extend much beyond a few offbeat questions from journalists.
"I have been around it for so long, with so many naming opportunities on those games, that it wasn't anything to me that seemed off," University of Central Florida football spokesperson Andy Seeley tells Inverse. "I do recall a number of the players and coaches being asked if they understood or knew what bitcoin was."
He says the team's knowledge was, at best, mixed.
"It's something I'd heard of," says Seeley. "Now I wish I'd invested in it!"
By the time the game kicked off on December 26, the cryptocurrency was in need of some positive press, as the year had not been kind.
"In 2014, there was still a lot of people reeling from the Silk Road," says Wosnack, referring to the online black market for drugs and other illicit services that served as many people's first introduction to bitcoin. "As well as the Mt. Gox scandal, where a bunch of money got lost and they were hacked, the largest exchange in the world going down. The bitcoin price crashing that year right after a big jump in 2013 to $1,200 a coin, which today sounds like nothing."
Exact figures for what BitPay paid ESPN for the bowl sponsorship aren't public, but it was reported to be about $500,000 annually. BitPay CEO Tony Gallippi said the company paid ESPN in bitcoin.
On June 14, 2014, the day the sponsorship was announced, bitcoin's average value was $554.37, meaning it would have taken about 901.9 bitcoins to pay for the first year. Given bitcoin's current price of about $13,800 — down a few thousand from its peak earlier in December — that initial $500,000 payment would now be worth nearly $12.5 million.
That raises an obvious question: If BitPay paid ESPN in bitcoin, could the broadcast network still be sitting on that crypto nest egg? The truth isn't quite so amazing:
"Payment was converted from bitcoin to cash before it was received," an ESPN spokesperson tells Inverse. "The short answer is no, ESPN did not get paid in bitcoin."
But even those at the game were unwittingly playing with a potential windfall. Say a fan used one of the bitcoin ATMs available at Tropicana Field to load $10 in bitcoin onto your phone. They planned to try it out by buying a beer and a hot dog, but at the last second decided it wasn't worth the hassle and stuck with cash. Given bitcoin was down to $328.49 on December 26, that forgotten $10 would now be worth about $420, and quite a bit more than that a couple weeks ago.
A Weird Idea Too Weird for Its Time
How many hypothetical, accidental bitcoin-investing football fans actually exist is an open question, though.
"Even at the football game, I was surrounded by people [with] a lot of skepticism: 'Is this a scam, what am I doing here looking at bitcoin?'" says Wosnack. "The attitude back then was very skeptical. It was like, 'Isn't this a Ponzi scheme? Didn't bitcoin get hacked? Didn't the CEO of bitcoin get arrested? Of course, there's no CEO of bitcoin, right, [it's a] decentralized technology."
But then the Bitcoin Bowl itself wouldn't have cleared up that particular confusion. Typically, a company would put its own name on the bowl game it sponsors. But for this game, BitPay elected to make the entire cryptocurrency the game's sponsor, declining the right to hold the BitPay Bowl in favor of the Bitcoin Bowl. Wosnack says he loved that decision, as it made the game about the entire cryptocurrency ecosystem instead of just one payment company.
Exactly why there was never a second Bitcoin Bowl remains unclear. Steinocher says he doesn't know, and the ESPN spokesperson simply said the network and BitPay made a mutual decision to part ways after one year of the deal.
"I can't give any more comment right now," BitPay spokesperson Julia Patterson told Fortune in 2015. "I think probably in the future we'll be able to talk about it more, but at the moment, we're not going to go into it."
BitPay did not respond to multiple attempts by Inverse to contact the company for this story. The press phone number goes to an answering machine that directs people to an email address.
Whatever the success of the Bitcoin Bowl, it later came out that December 2014 was not a good month for BitPay. A report in September 2015 revealed the company's CFO had fallen prey to a phishing scam that allowed a hacker to impersonate him and make successful multiple requests for a total of 5,000 bitcoin from CEO Stephen Pair. That was the equivalent of $1.8 million lost, money that BitPay unsuccessfully sued its insurers in a failed attempt at compensation.
All of which suggests what was so terminally weird about the Bitcoin Bowl: Bitcoin wasn't quite ready for the spotlight in 2014, and three years later it has far outgrown what is now called the Bad Boy Mowers Gasparilla Bowl. Wosnack suggests a modern equivalent of the Bitcoin Bowl would be no less than an NFL sponsorship deal, given the billions behind both bitcoin itself and the underlying blockchain technology.
But it was just too hard to connect those dots in December 2014, and that's why Steinocher says he ultimately didn't invest in bitcoin, as much as he now regrets it.
"It wasn't like, 'Holy cow, I see the future, and I'm going to dump some money in this sucker because I get what's going to happen in the future with this," he says. "It was kind of like when electric cars came out eight years ago. And you saw one or two and you thought, huh, that looks like something interesting. But now, especially in St. Pete, you see them everywhere."
That leaves the Bitcoin Bowl as a curio, a historical footnote from before bitcoin took over the world. For Steinocher, the fact that his beloved city of St. Petersburg was among the first to see its potential, however imperfectly, remains a point of pride.
"We felt kind of like we caught the first wave and we were just sitting on the board waiting for the next wave for a long time," he says. "And finally, fast forward three years, people get it now."