Tesla Model 3 Delays Tied to Gigafactory Battery Issues, Employees Claim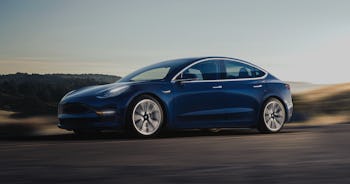 Tesla
Tesla is running way behind on its deadlines to scale up production of its new Model 3, with the company yet to ship any of its basic models of the car. It's not the first time Tesla has slipped on its promised dates, but a bombshell new report suggests the company is dealing with more fundamental issues in the production process.
A lengthy CNBC report characterizes just how far behind Tesla was in its December efforts to automate production of the Model 3 at the company's Gigafactory in Nevada. Key to successful mass production of the car is the assembly of the car's lithium-ion battery, which Tesla employees say are still being built by hand.
A Tesla battery pack is understandably complicated, comprising four modules that in turn contain seven sets of cooling tubes with rows of lithium-ion cells on each side. It's possible to assemble all that by hand, but it takes care to get the alignment of all those cells precisely right. Pushing the cells too high or too low can create scrap, and in the worst case misaligned cells could be close enough to touch, creating the risk of the battery short-circuiting or even catching fire.
The report indicates that Tesla had to rely on temporary workers as part of its December bid to ramp up production. Employees who spoke to CNBC anonymously claim the breakneck production pace and the lack of familiarity these extras workers had with the battery assembly created significant quality control issues.
"Many of the company's quality control workers are relatively inexperienced, make sloppy calculations and don't know when they're looking at flaws, according to several current and former employees," CNBC reports. "They said many quality inspectors were temp-to-hire workers with no automotive experience who Tesla hired via a staffing agency.
Two engineers said they were concerned enough about the issue of cells touching each other that they brought this up to their superiors, who they said dismissed these concerns. The potentially defective batteries including some that may have shipped in the Model 3 cars, according to CNBC's sources, though Tesla denied any such possibility in a statement.
"The implication that Tesla would ever deliver a car with a hazardous battery is absolutely inaccurate, contrary to all evidence, and detached from reality," the spokesperson told CNBC. "All Model 3 battery modules' cell positions are measured twice in manufacturing to verify process control and quality of outgoing parts. Conversely, if at any point in the production process cells are touching at different voltage potentials, they cannot be electrically interconnected. Over the course of the production process, we conduct three different tests to ensure the right number of cells are electrically connected in Model 3 modules."
The report indicates Tesla has made progress in automating its production process since December, even if it is still a ways away from reaching its already decreased production goals. This may mean that the battery issues, whatever they once were, have been largely resolved as Tesla shifts away from its temporary reliance on outside workers.
However, the engineers who spoke to CNBC said Tesla does not do the same stress tests as other automotive makers that would more definitively establish whether the touching cells issue is a serious concern for cars that have already shipped.