This Fake Coachella Poster Has the Worst Fake Band Names A.I. Could Imagine
Can't wait to see Lard House and Babystician.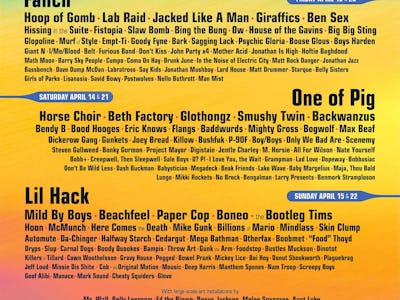 Twitter User Botnik Studios
In the parallel universe where computers name popular bands, Coachella 2018 will be headlined by Fanch, One of Pig, and Lil Hack. Trop house mainstays Chesty Squiders will also make an appearance, along with prog rock darlings Manthem Spones and folk quadruplets John Party x4.
Ugh, parallel universe Coachella gets more mainstream every year. The annual joke of sharing fake Coachella posters on social media goes back years, but a poster shared Twitter on Tuesday approached something like virality on technology Twitter.
That's because the band names came from a satirical Coachella poster made by the creative coding and comedy collective called Botnik Studios.
"We had the network generate acres and acres of names, which the Botnik Studios team combed through, pitched, and voted on," Botnik CEO Jamie Brew tells Inverse. "The final poster is the cream of the crop."
The names — such as Hoop of Gomb, Beachfeel and Mighty Gross — were generated by a neural network drawing upon two huge databases (known as "corpuses" in neural network-speak) of real band names.
The corpuses contained, respectively, "the name of every band that Pitchfork has ever covered, and another with a list of 10,000 names of metal bands," Brew says.
By analyzing the corpuses, the neural network identified textual patterns, and then used the patterns to come up with new names. The result? Stylized gibberish:
Botnik has been crafting jokes using neural networks since it was formed in 2016 by Brew, a former Clickhole writer, and former New Yorker cartoon editor Bob Mankoff. Their mission is to use, "computational tools to create strange new things." Essentially, they've identified the sweet spot of human-machine collaboration: come up with silly premises, and enlist computers to execute them.
By using tools like neural networks, they can invest in massive jokes that they couldn't accomplish on their own. In the past, they wrote a new chapter of Harry Potter (this one also enjoyed viral success), and drafted a new section of Fire And Fury that focuses exclusively on food from McDonald's.
The latest gag draws upon the inherently ridiculous nature of band names and the iconic visual of the Coachella lineup poster. Not only are the generated names realistic, some of them are downright appealing. Who wouldn't want to jam with Billions of Mario, or experience the genius of Backwanzus?
Brew said the Coachella poster was collaborative effort. The neural network was trained by Rob Dubbin, CEO of the collaborative screenwriting company Scripto, but that was only a fraction of the work. The project took about a week.
The actual Coachella runs over two consecutive weekends starting April 13. Here's the actual line-up.