Slayer is Retiring: Here are the 10 Most SLAAAAAYER Moments on the Internet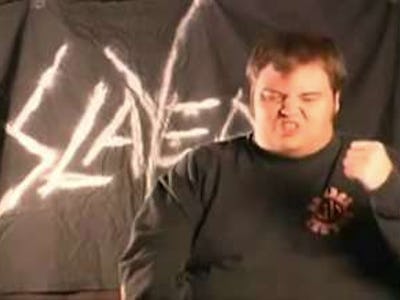 YYoutube
It will rain blood one last time.
On Monday, legendary metal band Slayer announced its head-banging and moshpit-orchestrating days are numbered. A video posted on the band's official Youtube page announced "The End is Near… Slayer to make its exit with one, final world tour."
Not much else has been said by the band regarding the dates of these farewell shows or about the reason for retiring. However, during a 2016 interview with the band's bassist and lead singer, Tom Araya, he suggested that the remaining members of the band might be getting a bit old to continue thrashing as hard as being Slayer requires.
"I'm grateful that we've been around for 35 years; that's a really long time," Araya told Loudwire. "So, yeah, to me, it is. Because when we started off, everything was great, because you're young and invincible. And then there came a time where I became a family man, and I had a tough time flying back and forth."
This sudden announcement left Slayer fans — who are notoriously devoted to the band — stricken with sadness. One fan on Youtube wrote that they were "going to be crying blood" if the band's announcement is true.
Slayer is a band that predates the Internet, but has garnered a storm of attention online. That has a lot to do with its district cult following that emerged from its face-melting music, and album art that resembles the stuff out of a hellish dreamscape:
The band has embraced the screeching adults, absurd fan homages, and memes that it has brought to life over the past 37 years. Here is some of the best Slayer content the Internet has to offer.
May you ride the Angel of Death into Valhalla, Slayer; you won't be forgotten.
10. How Would You Describe a Slayer Fan?
That's a question that has been asked for the band's 35 years of shredding and this video holds the best answers to this age old question.
9. SLAAAAAAAYEERRRRRRRRR
If you're having any doubts about someone's loyalty to Slayer just listen for the most brutal battlecry in metal history.
8. Fans Of All Ages
Fans of this mythical metal band are never afraid to share the love of their favorite band, no matter how young. In a 2012 blog post, die-hard Slayer fan John Vantine explained how he had developed the habit of drawing the band's logo all over his note books.
He did this so often that his girlfriend's daughter also caught on to the habit. Proof that love for metal knows no age group.
7. Endless Covers
The band's fandom knows no bounds, as even banjo-playing musicians on Youtube have taken up covering some of Slayer's most popular tracks — and getting almost millions of views. Rob Scallon, has amassed over a million subscribers by posting guitar and banjo cover videos. His second most popular video of all-time is banjo cover of Slayer's most iconic song, "Raining Blood," which has almost 8 million views.
Fans in the comments, who you would think would be partial to the original, seemed to love Scallon's rendition: "Slayer is so fuckin metal that even on banjo sounds heavy lol ," said Youtuber Eduardo SzéLL in the comments. We agree.
6. Extreme Tattoos That Took Off Online
Like any other fandom, there will always be people willing to get "Slayer" permanently drawn on their body, no matter how hideous. This one is definitely at the front of the pack.
5. Body Carvings
Of course Slayer fans had to take tattoos one step further. The some of the band's most crazed fans have been known to carve things straight onto their skin. This guy (warning:NSFW) carved the band's name into his head… Talk about brutal.
4. Slayer Fan Protests Religious Protesters
The National Association of Music Merchants hosts a trade show every year in Anaheim, CA, and sometimes attracts religious protesters for reasons that aren't totally clear. A Slayer fan promptly made his way to the picket line to hold up a huge band t-shirt that has a title of a less-than-godly Slayer song on the front.
3. Gary Holt Calls Out Kardashians
Gary Holt, the guitarist that took founding member Jeff Hanneman's place after his tragic passing, couldn't resist taking shots at Kendall Jenner after she was spotted rocking a Slayer tee back in 2014. This has since become a symbol of how little the band gives a shit.
2. Wholesome Interviews with Children
Amongst all the moshing and calling out celebrities, the band found room to do some hilarious interviews with a younger age group. Here's a video of Tom Araya being interviewed by two little girls, who asked him what he would change about the band name to if he was forced to rename it after a popular TV show.
There's something about metal legends interacting with the youth that warms our hearts.
1. Slayer Memes
Like anything that is embraced by the internet, there are memes about it. Slayer is no exception to this rule.