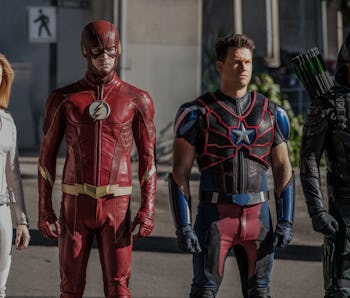 Entertainment
CW President Says There's a Strict Limit on Arrowverse Shows
The CW
Superheroes have thrived in comic books for over 70 years, but on TV networks and studios are being careful not to turn success into kryptonite.
In a new feature on Bloomberg, CW president Mark Pedowitz talked openly about the success, and potential pitfalls, of cramming the TV landscape with too many superhero shows. To that end, Pedowitz said the CW will not have any more than four superhero shows on air at any time.
"The audience will tell you when the fatigue has set in," Pedowitz told Bloomberg. "If you have a quality show or a fun show, the audience will stay with it."
A quick look at The CW's current schedule shows Pedowitz means there won't be four superhero shows airing at any time, but there could be more than four superhero shows on the network.
As of now, there are five DC shows on the network, though not all at once. Right now, they've got Arrow, The Flash, Supergirl, and the newest show, Black Lightning, which debuted to strong ratings and a 100 percent "Fresh" rating on Rotten Tomatoes. There's also Legends of Tomorrow, which is in its third season, but it won't be airing until February 12 when Supergirl takes a break. The CW also has three animated DC shows on its digital platform CW Seed: Vixen, Freedom Fighters: The Ray, and Constantine, an animated revival of the canceled NBC series.
The Bloomberg report explains that networks are attracted to superhero shows because of its strong appeal to male viewers, not unlike sports. Because superhero shows also inhabit shared universes, there is a ready-made, built-in audience most new TV shows lack the luxury of.
While die-hard fans will tell you that TV is just emulating how comic books have crossed over storylines for decades, the complex process that is TV production makes shared universes a lot more attractive in the age of internet streaming.
If the success of The CW, as well as competitive studios such as Marvel, mean anything, it's that variety within the superhero genre is also key to avoiding fatigue. Black Lightning is a more socially conscious series than the sci-fi heavy The Flash. While Marvel/Netflix shows all share the same banner, the styles between all the shows couldn't be any more different. The violent crime drama Daredevil is nothing like the investigative serial show Jessica Jones, which is nothing like the revenge thriller that is The Punisher, even if all those shows (plus Iron Fist, Luke Cage, and The Defenders) share one continuity.