'Black Lightning' Deserves Its 100 Percent Rotten Tomatoes Rating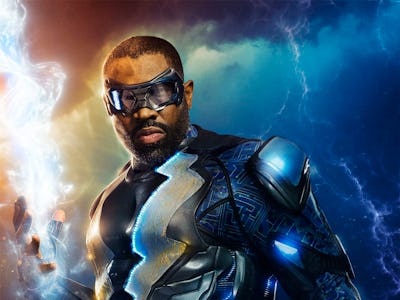 The CW
Rotten Tomatoes, for better or worse, has changed how movies and TV shows are reviewed upon release. Shows live and die by the site's pass/fail "Fresh" and "Rotten" scores, and if a show gets the coveted "Fresh" rating, critics and general audiences alike take notice.
So it's especially compelling that The CW's Black Lightning, a brand new DC superhero show starring a little-known superhero and is disconnected from the established Arrowverse franchise, is coming out of the gates with a solid 100 percent rating. As of this writing, eleven TV critics have hailed the show as "compelling" and "terrific." This may change as soon as this very article is published, but for now, an electrical and socially-charged superhero has put the rest of the television landscape on notice.
It's especially important that Black Lightning, which stars Cress Williams as a school principal who hides his identity as a super-charged superhero, is getting such attention as its perhaps the most socially-conscious superhero show in a long time. While most other superhero shows explore issues of race, gender, and politics in code — see The Gifted, which has mutants stand-in for minorities, or Jessica Jones, which uses mind-control powers to enable one man's abuse of women — Black Lightning is unapologetic in its themes.
When Black Lightning talks about race, it's not talking about aliens; it talks about black people. When Black Lightning talks about gang violence, it's not talking about feuding bands of mutants; it's talking about gang violence. It took another CW series, Arrow, five seasons to finally talk about something, which was gun control. It took Black Lightning five minutes before its lead character, a black male, was wrongfully profiled by law enforcement.
Though Jefferson Pierce has unbelievable electric powers, the world he inhabits feels more than real. It feels close. Black Lightning just plain looks like the world outside, as black and minority faces pack the screen in almost every frame. All the challenges endured by Pierce's family, as well as the city, include everything from racial profiling, underfunded public education, drug and human trafficking, school shootings, and vigilantism.
There's no question the DC TV universe is already fantastic, and many times uses its powers for a greater good. (Supergirl in particular often explores modern race and gender politics.) But Black Lightning is something else. For those who decry politics in escapist entertainment, Black Lightning is not what you're looking for. For the rest of us, it's a show we desperately need.
*Black Lightning premieres tonight at 9 p.m. ET on The CW.