'Arrow' Edited Its Politics to Appease Right-Wing Viewership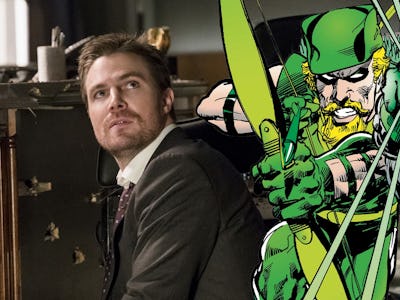 The CW, DC Comics
Oliver Queen is the mayor of Star City in Season 5 of Arrow. But without a specific platform, party affiliation, or even an opinion on divisive issues, it's amazing that Mayor Queen (Stephen Amell) gets anything done. While the Green Arrow from DC Comics is famously liberal from the defining Denny O'Neil and Neal Adams run in the '70s, the Green Arrow on 2010s TV has been shades of moral gray. But this week, Arrow finally took on a topical issue — gun control — but the reluctance to make any opinion, perhaps because of its audience, kept Arrow from being a real successor to the comics it's based on.
In this week's episode, "Spectre of the Gun," Arrow put a spotlight on gun violence and legislation. Before it even began, the show warned that "viewer discretion is advised," which has never before appeared in any episode. In the episode's opening, a gunman opens fire in broad daylight at Queen's office, killing seven people. Arrow has gone far bigger in its past with terrorist acts like the Undertaking, where 500-plus died, and in Damien Darhk's nuclear bomb plot. But this week Arrow tried to make seven dead a tragedy.
The Adams/O'Neil comics leaned left as the Green Arrow berated the Green Lantern for failing to understand the common folk. But Arrow, the TV series, has been either apolitical or borderline fascist. Superheroes by default are pretty fascist, but in its first few seasons, Arrow had an angry Oliver exercise violent, murderous justice without due process. Five seasons in and Oliver is still mad and still murderous. (Killing for the Green Arrow has been both on and off the table so much, it's hard to keep track.)
In an interview with IGN, producer Marc Guggenheim — who identifies as a progressive — said Arrow earned its chance to make a point. "We sort of felt that gun violence felt like the right topic, because of its topicality but also because of the level of gun violence that is on Arrow," the producer said. Guggenheim also said he grew up in an era of TV that openly tackled issues, but now works in an era when most TV shows do not. It's indicative of a shift in cultural attitudes. "Somewhere along the line, we got away from that."
In the current climate, it's common to hear from the right to "get politics out of entertainment"; British band Gorillaz were criticized for their song "Hallelujah Money," which was an unambiguous jab at Trump on the eve of the President-elect's inauguration. At the Super Bowl, Lady Gaga was praised — again, by the right — for not being explicitly political, even though she started her performance with a rendition of "This Land Is Your Land" just a week after the Muslim ban.
Arrow maintains a strong conservative audience in spite of the comic's socialist roots: In 2016, a survey by E-Score revealed conservative voters rated Arrow as their fourth favorite show, behind Scorpion, The Walking Dead, and Supernatural. (Spin-off series The Flash was fifth.)
But even if Arrow took on guns, did it actually make a point? After spending most of the episode fighting with a councilwoman who wouldn't budge on her vote, Queen and his ally Rene Ramirez — a pro-gun advocate — worked on a bill that compromised between freedoms and protection. That's great, except Arrow never says what the compromise was. It's signed without the audience knowing precisely how Star City will live with firearms.
A telling moment occurred in the middle of the episode as Queen stumbles through a press conference. He's pressured by reporters to make any public stance. A reporter asks him: "What is your personal opinion?"
He answers, "That it's complicated."
Arrow airs on The CW.